Mushroom Aaloo Pasanda (mughlai Butter Mushroom And Potatoes In Creamy Sauce)
I love paneer pasanda and so I wanted to try mushroom in the same way. I only found one recipe online and it happened to be the recipe of a dear friend of mine. But I did not have sufficient mushroom after cleaning and so I added potatoes to make sufficient curry for my family. I also did not want to make the curry too rich so I used cashew paste instead of almonds. I omitted sauteeing mushrooms in butter, but I will share these steps so that you can make it in authentic style. I also did not want to bite into whole spices so I ground mine with the onion and tomato paste while the real recipe does not recommend this. I will share my version and mention the alternative steps side by side.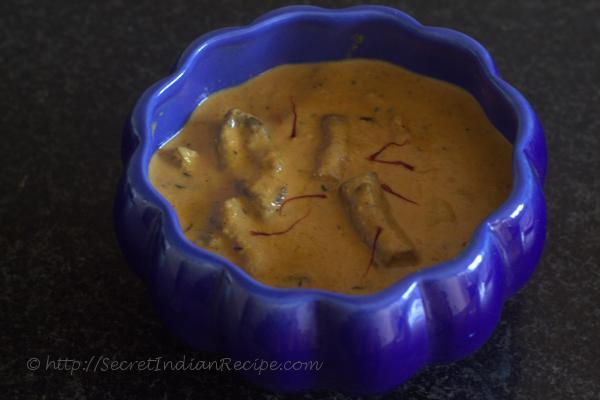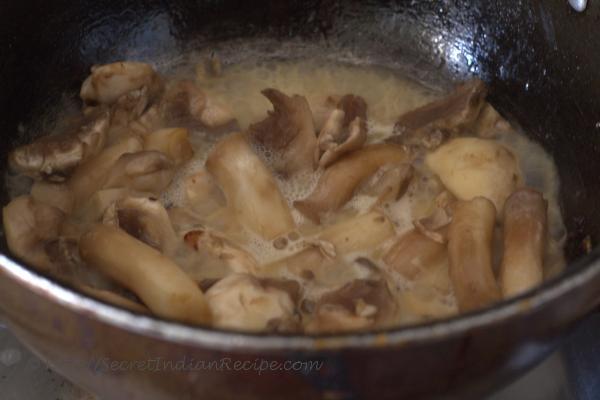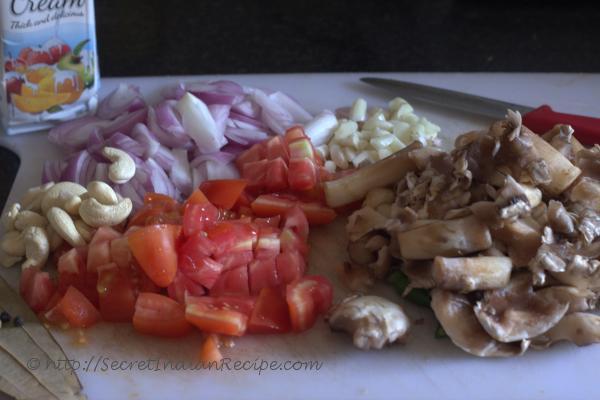 Ingredients:
Mushroom- 200g
Onions- 2
Potato- 1 large one
Garlic- 7 cloves
Ginger- 1 inch long piece
Green Chilies-4
Tomatoes- 3
Cashew nuts- 10
Turmeric powder- 1/2 tsp
Chili powder- 1 tsp
Garam Masala- 1 tsp
Bay leaf- 1
Cinnamon- 1 inch long stick
Cloves- 2
Cardamom- 2
Peppercorns- 2
Saffron- 3 strands
Cumin seeds- 1 tsp
Kasoori methi- 1 tsp
Salt- to taste
Fresh cream- 100 ml
Warm milk- 2 tbsp
Sugar- 2 tsp
Oil- 4 tbsp
Directions:
Heat oil and saute the whole spices (cinnamon, cloves, cardamom, peppercorns, bayleaf) add the chopped onions after the spices are roasted.
When the onions brown,add chopped green chilies and minced ginger and garlic. Saute till the garlic browns. Soak the saffron in warm milk.
Add cashew nuts, tomatoes and salt and saute till the tomatoes wilt and switch off the flame. Puree these ingredients after they cool down.
In usual recipes you omit sauteeing the whole spices and grinding them so you would be pureeing only the sauted onions, ginger, garlic and tomatoes with cashew nuts in that case.
I chose to add whole spices to avoid biting into them. Now in mean time, saute the mushrooms separately in pan with 2 tbsp oil.
As mushroom wilt they release water, I add this water to the gravy later so I keep it separately in a bowl.
Now heat the pan used to saute onions and add 2tbsp oil. Add cumin seeds first and let them splutter.
After the cumin splutters, add the cubed potatoes and shallow fry them. Once the potatoes are half cooked, add the ground paste along with salt.
Add 1 cup water and the stock from sauteeing mushrooms and let the potatoes cook in this gravy for 5 minutes.
After 5 minutes add the saffron soaked milk and add the mushrooms. Let the mushrooms cook for 5 minutes before adding the cream.
After this bring the curry to a final boil and add kasoori methi and sugar. Take the curry off the flame five minutes from adding kasoori methi.
Sprinkle some garam masala and drizzle some fresh cream. Serve with rotis and Mughlai mushroom aaloo pasanda is ready.