Mushroom Masala
Mushrooms! Only thing I liked about them was their fairy tale connection! And the ease with which they could be drawn and painted on a corner of a dream diary!may be I didn't like them as much as a food item, because they were difficult to make( or that I never tried making it!)
But this Monday was spl. as I finally made mushroom curry and it turned pretty good! So, if you are like me, and have been underestimating the nutrient packed cute mrooms than plz try this recipe, serve it with Paratha, naans or phulkas- I promise, mushroom will be in your grocery list from then on! As always, plz feel free to leave comments/ improvement suggestions:)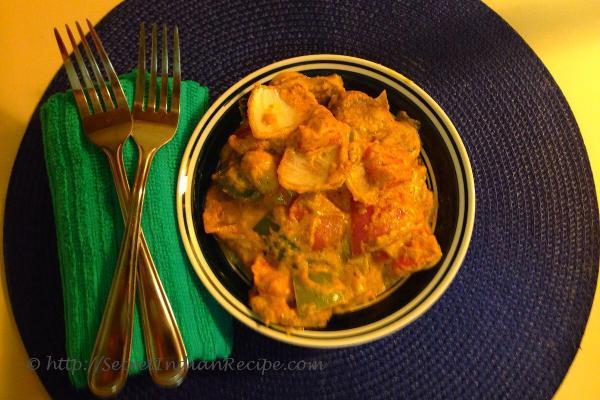 Ingredients:
Button Mushrooms- 230 grams- cleaned n cut into 1 inch pieces
Onion-1/2 cup cut into large square and hand separated( as shown in pic)
Capsicum- green or red-1/4 cup cut in square just like onions
Tomatoes- 1/2cup square cuts seeds removed
Cashew nut- 1/4cup, Almonds- 6-7,poppy seeds- 3tsp,onion-1,tomato-1,ginger-1",garlic-2- All these for paste
Oil for frying and some butter
Turmeric, red chilli pwdr, corriander pwdr, pepper pwdr,cumin pwdr, garam masala pwdr-1/4tsp
3" cinnamon stick,2 bay leaves, 3 green cardamom
Salt to taste!
Kasuri Methi- 1 pinch (optional)
Directions:
Par boil- cashew, almond, onion, tomato, poppy, ginger garlic in water and blench it well- put in a blender and make a smooth paste with lil water
Take a non-stick pan, add some oil and butter, once a bit hot, add cinnamon, cardamom, bay leaves to it
Add the paste to the oil and some salt,in a low flame keep stirring and cooking till you see oil separating
In a small pan- add the squared chopped onion, capsicum and mushrooms and sauté with lil salt,and lil turmeric- add tomato squares last and sauté it as well
By now you should see oil separating from paste- add some red chilli, corriander, pepper,cumin, garam masala powders, cook for 2-3 mins
Add the sautéed mushrooms, square onions, capsicum, and tomatoes and incorporate all the masala in it.. Add little water if required,to avoid burning- close the lid and cook till mushrooms become soft- usually 5-6 mins, on low flame!
Sprinkle little Kasuri methi and switch off the flame and serve with bread of choice!
Footnotes:
Get fresh button mushrooms, chop the onion, capsicum, tomatoes large like you find in Paneer do pyaza recipe, cook mushroom well, they should be really soft once done- and chop them small :)
Pepper, and red chilli pwdr are the only way you will balance out the sweetness of the gravy-adjust as per taste
Add mushrooms first in the gravy as they take longer time than squared veggies- once it's soft you can add the veggies so that they remain a bit crunchy!