Mutta Baji (egg Pakoda)
This is a wonderful tea-time snack for kids. It's crispy and tasty as well. Just try it out and you too will love it.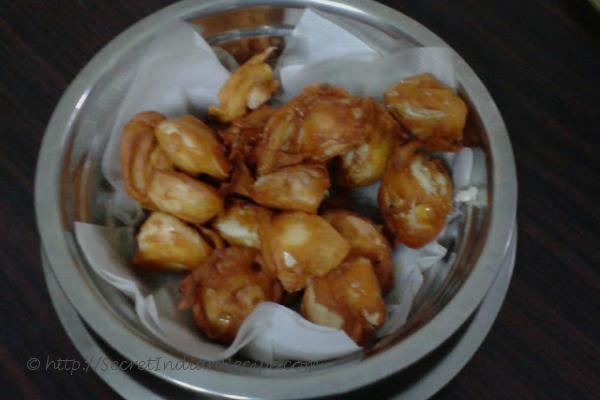 Ingredients:
Eggs-4
Gram flour- 1 cup
Red chilli powder- 1 tsp
Turmeric powder- 1/2 tsp
Asafoetida powder-1/2 tsp
Salt- as required
Water- as required
Coconut oil- as required
Directions:
Boil the eggs. When cooled, cut the eggs vertically into two pieces using a knife. While cutting, be careful that eggs do not break
For making the batter, mix the gram flour, salt, red chilli powder, turmeric powder, asafoetida powder and water using hand. The batter should have a consistency similar to that of idli batter.
Dip each of the egg pieces into the batter so that the egg piece gets fully covered with the batter.
Heat coconut oil in a pan
Deep fry the batter coated egg pieces in oil and serve hot with chilli or tomato sauce.
Footnotes:
While frying the egg pakodas, please be careful that the eggs do not splutter. Try to fry in a low- medium flame
Other Indian Recipes that you may Like !