Mutta Roast (kerala Style Egg Roast)
Vellayappam and egg roast is a traditional recipe in the breakfast table of Kerala. This recipe was handed over to me by my mother-in-law. It provides all the nutrition needed for one whole day.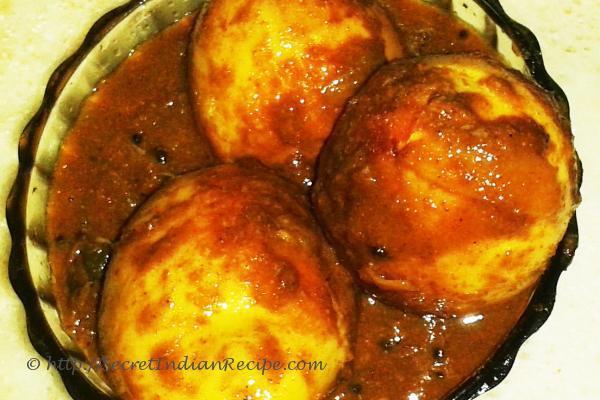 Ingredients:
Boiled egg -4 nos.
Chopped onion -1 cup
Green chilli -4 nos.
Curry leaves – 2 sprig
Chilli powder -1, 1/2 teaspoon
Coriander powder -1 teaspoon
Garam masala powder -1/2 teaspoon
Turmeric powder-2 pinch
Oil-5 tablespoon
Salt –as you need
Directions:
Switch on the stove and place a pan on the stove.
Add oil into the pan.
When the oil gets heated, gently fry the boiled eggs in it.
Remove the eggs when it turns golden brown.
To the same oil, add chopped onion, green chilli, curry leaves, salt and turmeric powder.
Sort it till the onion turns golden brown colour.
Then add chilli powder, coriander powder, and garam masala powder and sort them.
Add boiled egg to the above gravy and add a little water and salt to taste.
When it reaches the required consistency, remove it from flame.
Serve hot and enjoy....
Footnotes:
It can be used as a side dish for chappathis, appam etc.
You can also use egg masala powder available from supermarket instead of garam masala powder.
Other Indian Recipes that you may Like !