Mutta -thakkali Porichathu (kerala Style Vegetable Stuffed Omelette)
All of us are familiar with the traditional omelette which can be cooked easily. But, here I introduce a new form of omelette, which is a vegetable stuffed omelette. Compared to normal omelette, this stuffed omelette needs some more time for preparation, but it's taste will force you to cook this for your loved ones. This will fill your stomach and hence can be served as your breakfast, Lunch or dinner... as you wish.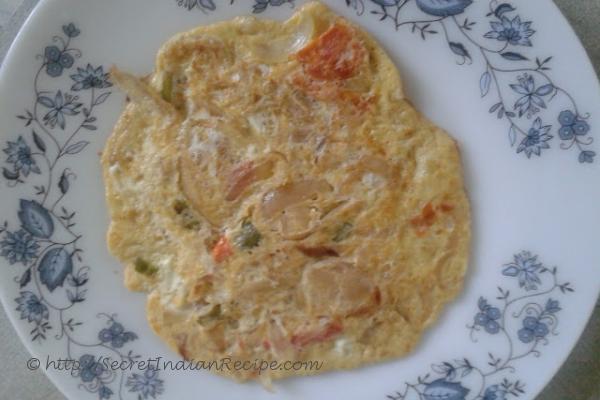 Ingredients:
Eggs-3
Tomato- 1
Onion-2
Green chillies-2
Salt-as needed
Coconut oil- 4 tbsp
Directions:
Break the eggs in a bowl and whisk it along with salt and keep aside.
Chop the onion, green chillies and tomato into small pieces.
Heat 3 tbsp of coconut oil in a pan and add the chopped onion, green chillies and salt and sauté until the onion turns light brown in color. Since we have added salt to the eggs, adjust the salt accordingly.
When the onion turns light brown in color, add the chopped tomato pieces and sauté till the tomato gets cooked well
When the tomato gets cooked well, switch off the gas and remove from the flame. Allow it to cool.
When cooled, transfer it to the beaten eggs and mix well.
Heat 1 tbsp of oil in a flat-shaped pan over medium heat. Spread the eggs evenly over the pan using a spoon or spatula.
When the bottom side of the omelette gets cooked well, flip the omelette to other side using spatula. Continue cooking for 2-3 minutes until the other side of the omelette gets cooked completely.
Transfer the omelette to a plate and serve hot.
Footnotes:
You can make up to 3 stuffed omelettes using this recipe. If you want to serve for more people, increase the quantity of the ingredients accordingly.
Other Indian Recipes that you may Like !