Mutton Biriyani
I'm not going to add the word "authentic " because obviously, the biriyani has taken various hues and flavours from various regions. This is a recipe in which I have mixed and matched some techniques and flavours that worked very well together. Hope you try this and enjoy the dish!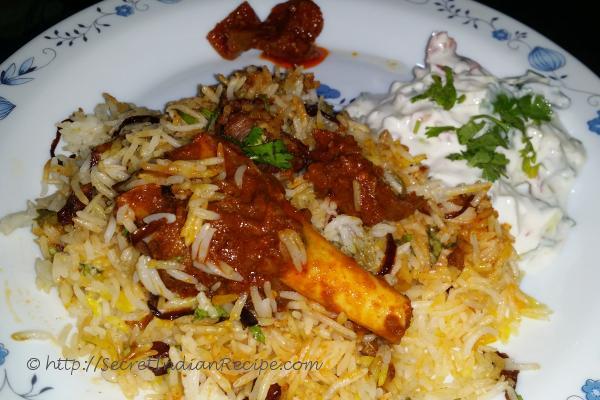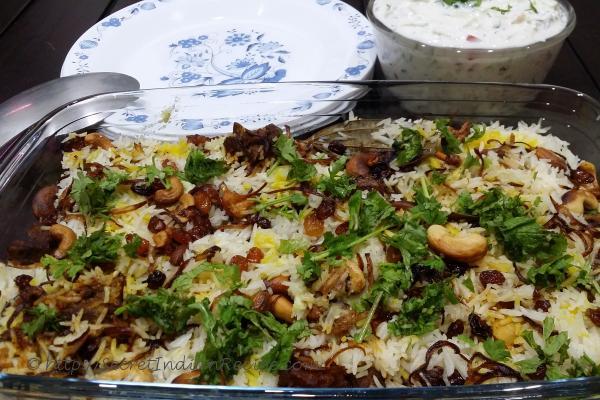 Ingredients:
1 kg Mutton
2 tbsp Curd
1 tbsp crushed Garlic
10 Green Chillies
Mint Coriander paste
5 cups thinly sliced Onions(about 5 medium sized onions)
1 cup Cashew nuts
1/2 cup Raisins
1/4 cup grated Coconut
4-5 Curry leaves
1 dessert spoon of Saffron strands
1/4 cup warm Water or warm Milk
3 cups Basmati Rice
4 green Cardamoms
4 Cloves
1-2" Cinnamon stick
1 tsp Caraway seeds (shahjeera)
1 tbsp Pepper
1 big Bayleaf
1 tbsp Kashmiri Chilli powder
1 tbsp Coriander powder
1 tsp Turmeric powder
Arabic spice mix or Garam masala-1 tsp
2 cups of chopped Tomatoes
1+1/2 tbsp Ginger chopped fine
Finely chopped Coriander leaves for garnish
Mint leaves for garnish
Salt
Any vegetable oil
Directions:
Make a coarse paste of 2 tbsp curd, salt, 1 tbsp crushed garlic, 4 green chillies and 2 tbsp of a paste of mint and coriander. ( I made a bowl of mint coriander chutney and set it aside. I used a little from it and left the remaining as an accompaniment for the biriyanj) Marinate the mutton with this paste for about 4 hours.
Fry and set aside about 2 cups of thinly sliced onions. Fry it caramel brown and crisp.
Fry 1/2 cup cashew nuts, 1/4 cup raisins and set it aside.
Clean and set aside a cup of mint and a cup or more of coriander leaves.
Make a paste of half of the cashew nuts + half the raisins +coconut + 2 green chillies+ 4-5 curry leaves + a little salt. Make a fine paste and set aside.
Soak the saffron in 1/4 cup warm water and set aside (you can use milk too)
Soak 3 cups of basmati rice in water.
Make a thick paste of Arabic spice mix, kashmiri chilli powder, coriander powder, turmeric powder. (you can mix the powders in a bowl with a little water and make a paste)
In a pressure cooker, pour in 3 tbsp oil. Add the whole dry spices- 4 green cardamoms, 4 cloves, 1-2" cinnamon stick, 1 tsp caraway seeds (shah jeera), 1 tbsp pepper, 1 big bay leaf. Do not let the spices burn.
As the aromas start rising, add 3 cups onions, ginger, and chillies. Sauté till the onions are just caramelised.
Add the spice paste. Sauté and let the oil separate. Then add the tomatoes. Cook this mixture to mush.
Now add the marinated mutton. Sear it all well and check the salt level. Keep stirring this well on high flame for about 7-10 minutes. Then close the cooker and let the mutton cook. The timing depends on the meat. Do not over cook.
Sprinkle some coriander leaves into the curry and leave it be.
Now for the rice. Drain the rice. Set 5 cups of water to boil. Add a little salt to the water. Heat the ghee in a hard bottomed vessel and put in the spices-4 cardamoms, 4 cloves, 1" cinnamon, 4-5 peppercorns. As the aroma reaches you and you put the drained rice into the vessel. Fry the rice a bit by stirring it.
After the rice is stir fried a bit, add the boiled water. Give a stir. Allow it to boil. Don't close the dish. We are not going to cook it fully. When it is 3/4th done, you will see that the water is almost gone. That's all we will cook it.
Take a reasonably big dish which you can keep in your oven (You can also bake over a griddle). A tbsp of ghee should be applied to all the inside of the dish. Now spoon out some of the mutton and make the first layer in the dish. Try not to pour in much gravy. Then add a good big layer of rice to almost cover the mutton layer.
Spoon a tbsp of the cashew- raisin-chillies paste. Drop blobs of it on top of the rice layer. Then add the saffron plus the water(or milk) mixture. Sprinkle some of the fried onions on top of this. Add a bit of the fried cashew and raisins. Spread a bit of the mint and the coriander leaves. Then again spoon more mutton. Top it with more rice. Repeat the process till the rice and mutton are all layered.
Shut this dish with a lid or aluminium foil and bake it at 170°C for 45 minutes. After 45 minutes, take out the dish. The rice will be fluffy and would have absorbed the flavours of the meat.
Garnish with more of the mint leaves, coriander leaves, fried onions, fried cashews and raisins. Serve hot with raita.