Mutton Dak Bangla (bengal Post House Style Lamb Curry)
Dak bangla cuisine is nearly a forgotten cuisine from west Bengal that survives among a few remaining khansama families and Anglo Indian households. Some of these khansamas went above and beyond, experimenting with known techniques and inventing unique dishes for the English travelers who would come to bunglows for shelter before independence.
Famed khansamas such as Bernard of the Bilaspur Circuit House and Peter of the Krishnaghur Dak Bungalow, who learnt to prepare a hybrid Anglo-Indian cuisine, offered up memorable dishes that could almost border on sublime.
I came to know about this dish when I was in Kolkata working as a chef for a hotel. The name mutton dak bangla was quite unusual which excited me to search for it all over the google. The secret ingredient is radhuni commonly known as ajmod all over india. Similar to ajwain this ingredient often confused with celery and used as a substitute to celery seed. It is bery common in Bengali cuisine but rarely used in aother parts of india.
My recipe mutton dak bangla is tribute to those khansamas who had brought this cuisine at its best with their experiments and led the foundation for us to grow and carry it forward.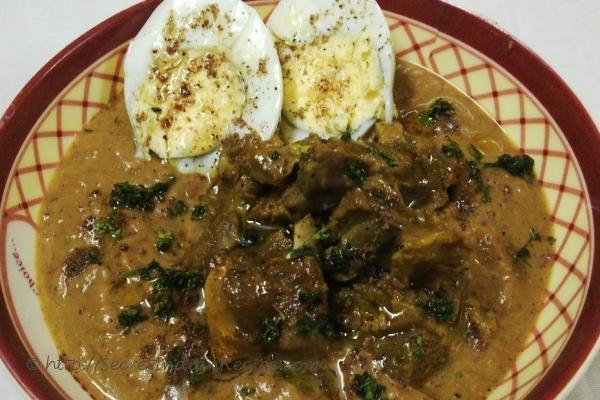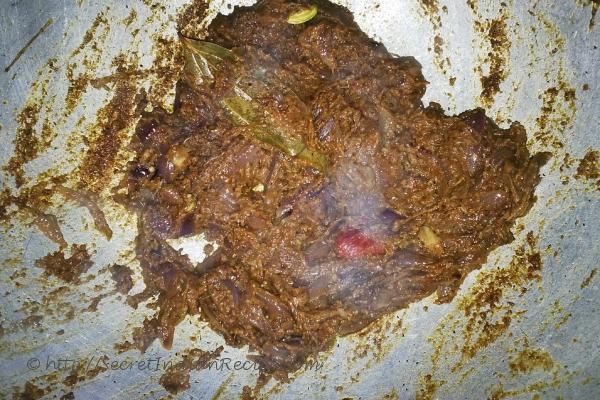 Ingredients:
Mutton- 250gm
Sliced Onion- 4 or 300 gm
Black Cardamom-2
Green Cardamom- 4
Cinnamon stick- 2
Bay leaf- 2
Javetri- 4
Cloves- 5
Red chilli- 5
Mustard oil- 100 ml
Yoghurt- 150gm
Ginger & garlic paste- 1tbsp
Ghee- 100ml
Radhuni/ajmod- 1tbsp
Garam masala powder- A pinch
Boiled egg- for garnish
For masala paste-
Coriander seeds- 2tbsp
Cumin seeds- 2tbsp
Fennel/saunf- 1tbsp
Whole black pepper- 10
Dry red chilli- 5
Garlic- 10
Ginger- 50 gm
Salt- To taste
Directions:
Prick the mutton with fork. Apply salt and ginger garlic paste, rubbing nicely into it. Keep it aside for an hour.
Roast the ingredients of the masala paste except ginger and garlic. Then make a smooth paste by adding ginger and garlic into it.
Heat oil in a kadai. Add all the garam masala into it until it crackles.
Add onion and fry it for 2 minutes. Add mutton into it and cook it well for 20 minutes.
Now separate the mutton pieces from the mixture. Add the masala paste into it and cook it well until it gets dark blackish brown in colour.
Allow it to cool and then make a paste of it along with yoghurt.
Bring the mutton pieces back to the kadai and add the paste into it allowing it to cook further.
Add enough water, cover and cook it.
After the mutton is cooked heat ghee in another pan and add radhuni to crackle in it.
Once it crackles add this over mutton, mixing it quickly and covering it for 5 minutes to infuse the flavor of radhuni into it
Garnish with boiled eggs and serve hot with paranthas.
Footnotes:
Before mixing the paste with yoghurt, Make sure your mixture should be cold or the yoghurt will curdle.
Other Indian Recipes that you may Like !