Mutton Leg Soup
One of the most cherished recipes of my mom is this Mutton Leg Soup which she always served us during the winter season. A comfort food in its own kind, this soup has all the properties to heal from flu, cold and infections. What could be more like a tribute to mom on Mothers Day than to share her most favourite recipe of all times and the one we loved to polish every single spoon off from a bowl in front of us.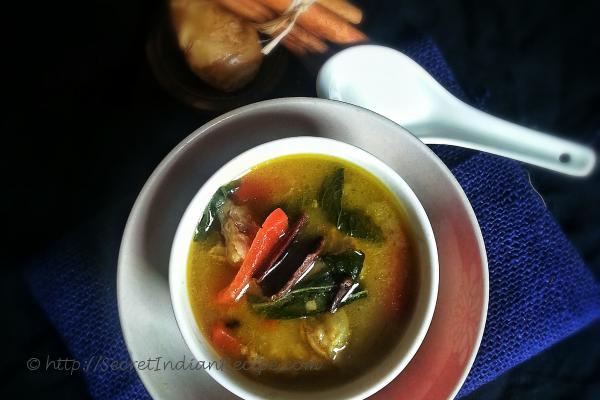 Ingredients:
Lamb leg or bones - 250 gms
Onion - 1, thinly sliced
Carrot - 1, peeled and juvelined
Ginger - 1 piece, grated
Garlic - 4 to 5 pods, minced
Turmeric - 1 tbsp
Salt to taste
Pepper to taste
Wheat Flour - 1 tbsp
Cloves - 4 nos
Cinnamon stick - 1
Fresh mint leaves - a handful, washed
Oil/ghee - 2tbso=p
Directions:
Clean the leg pieces very well with clear water.
Make a stock in a pressure cooker by placing onions, mutton, ginger, garlic, turmeric and salt. Let it cook until 5-6 whistles on a medium high or for approximately 30-45 minutes on a low flame.
Allow it to cool. In a separate cooking pot, add oil and splutter cloves and cinnamon till they become fragrant. Saute flour till it start changing its color.
Add carrots and saute for another min or so without burning the flour. Add the stock and give a boil. Turn the heat to low, add mint leaves and allow the carrots to cook along with the soup for about 5-8 minutes.
Serve warm.
Footnotes:
This soup has many medicinal properties from the ingredients like turmeric, mint and ginger which are known for easing effects with flu symptoms.
Other Indian Recipes that you may Like !