Mysore Pak
Mysore Pak is an Indian sweet that is very easy to make at home. Please try out my recipe and provide your feedback!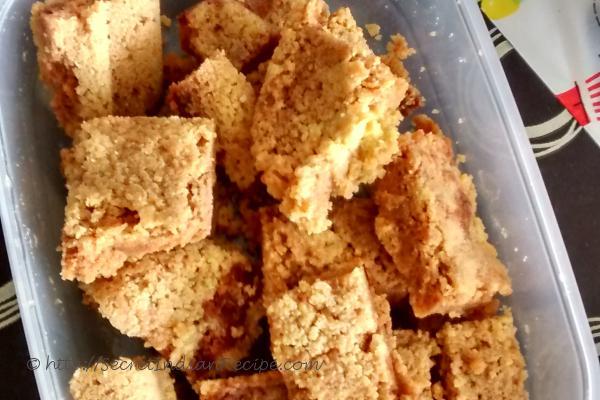 Ingredients:
175ml oil
175ml pure Ghee
250 gm Besan (Gram flour)
250gm Sugar
Directions:
Heat 2 tbl spoon oil and add to besan. mix it gently. Then take a big channi (Perforated spoon) and pass besan from it. Keep it aside.
Take a thick bottom pan and add sugar to it. Add 2 tablespoon of water and make a one string syrup.
Simultaneously on the other stove heat the oil and ghee. Till the boiling point.
Now add the besan to the sugar syrup gently, continuously stirring it so that no lumps are formed
Add one one table spoon of the hot oil simultaneously to the besan and sugar syrup mixture.
You should be very fast in adding oil and stirring the besan.
Stirr it continuously till the besan stop sticking to the pan and you can see the oil separating from the besan
Then pour the mixture to the greased pan very quickly and let it cool for ten minutes.
After 10 min, cut the pieces and enjoy.
Footnotes:
You can add cardamom powder for more flavour
You have to be very quick while pouring the oil to the besan and continuously stirring the besan
Use of Both the hands is very much essential