Mysore Pak (gram Flour Sweet)
Mysore pak is a sweet and delicate Indian sweet which has its origin, as the name suggests, in Mysore. The story behind Mysore pak is that a cook in the Mysore palace, once made a dessert for the King of Mysore. He made a paag, means sugar syrup in local language, and added to it the gram flour roasted in ghee. The gram flour gave it a golden color to the sweet and King loved it very much.The cooked named the recipe as Mysore Paag. The King asked the cook to open a shop outside the palace and asked him to serve the Mysore pak to all his subjects. No one knows when is Mysore paag become Mysore paak but it is still loved by all.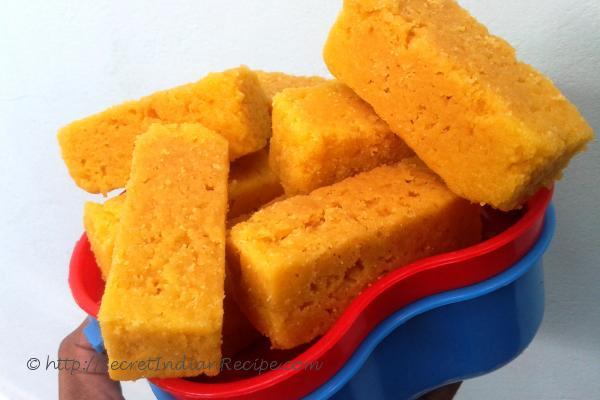 Ingredients:
Bengal gram - 1 cup
Water -1/2 cup
Sugar - 2 cups
Ghee - 1 cup
Cardamom powder -1/2 teaspoon
Directions:
Switch on the stove and place a thick bottomed pan on the stove.
Heat a little ghee in the pan and add the besan flour into it.
Roast besan flour until a nice aroma comes out.
Then remove it from flame.
Then heat the sugar and water in the pan.
Stir it continuously until it makes one string consistency sugar syrup.
Slowly add the besan flour into it, stirring continuously so that no lumps are formed.
When it is blended well, add the melted ghee into it and mix well.
Keep it in the flame and cook it until the mixture is frothy and the ghee separates.
Then remove it from flame and spread it into a greased plate.
When it is half cooled, cut it into desired shapes and allow it to cool completely.
Sweet Mysore pak is ready to serve.
Footnotes:
Don't roast the besan flour too much or else the color of Mysore pak will turn black.