Naariyal Burfi (coconut Burfi)
It is a custom and tradition in most of the states of India to prepare sweets during festivals. Today I am going to share with you such a festival sweet which everyone will surely love. As a Keralite, we can't avoid naariyal or coconut from our menu. So I tried out a burfi with coconut. This is a simple sweet which can be made with fewer ingredients and less time. So let's get started.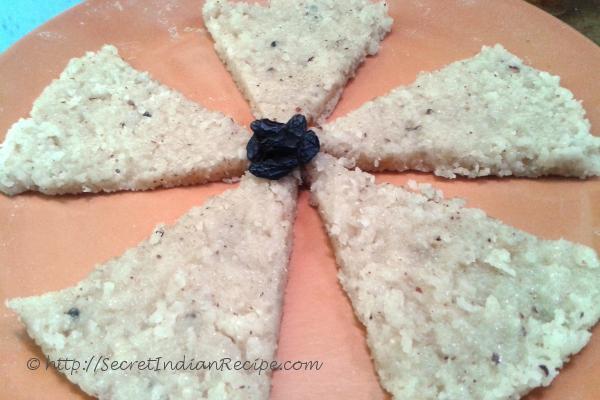 Ingredients:
Freshly grated coconut - 1 cup.
Sugar-1 cup
Cardamom -1
Milk - 1/4cup
Water -1/4 cup
Directions:
Switch on the stove and place a thick bottomed pan on the stove.
Add sugar and water into the pan to make the sugar syrup
Heat it and stir continuously.
The consistency of the sugar is that when you drop it in cold water, it will not dissolve but will form like a ball.
When the sugar reaches the required consistency, add the grated coconut and milk into the sugar syrup and stir continuously.
After stirring for 10 to 15 minutes, the mixture starts to thicken, and it will start leaving the sides of the pan..
This happens due to the oil released by the coconut.
At this stage, add cardamom and remove it from flame.
Then put it in a greased tray and allow it to cool for an hour or two.
Just cut it into pieces before it cools completely.
Store it in an airtight container.
Footnotes:
You should use only freshly grated coconut for this recipe to get the best taste.