Nadan Chen A Sambhar (yam Sambhar)
Nadan Chena sambhar is a delicious Kerala recipe. It is famous in Kerala. It is a delicious curry. I got this recipe from my grand mother. She has a unique recipe for making this sambhar. I am fond of this recipe.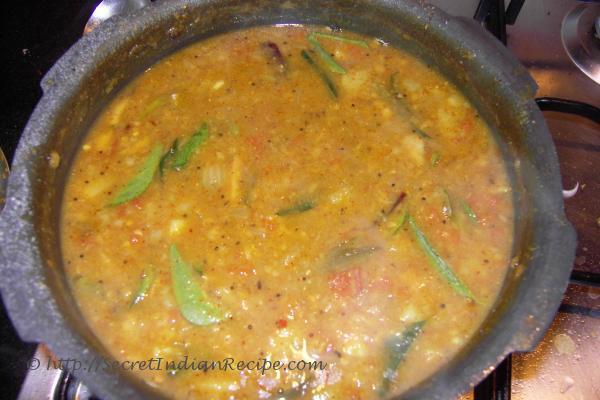 Ingredients:
Chena - 1/4 of the big yam
Thuvar dal- 1/2 cup
Tamarind paste - 1tsp
Coriander powder- 2 tsp
Chilli powder- 2 tsp
Chilli- 4
Turmeric powder- 1/4 tsp
Asafoetida -a pinch
Coriander leaves- few
Curry leaves -few
Onion- 2
Salt-to taste
Mustard-1tsp
Oil - 2 tsp
Tomato-2
Fenugreek Seeds - 1 tsp
Directions:
Clean and cut chena into pieces. Cook Thuvar dal in a pressure cooker up to 2 whistles.
Open the lid and add chilli powder, turmeric powder, Chena, tomato, chilli, coriander and salt. Again cook for a whistle.
Heat oil in another pan add mustard, red chillies, fenugreek Seeds and curry leaves .
When it splutters add this to cooker mix. Boil for 5 minutes then we can serve.
Garnish with coriander leaves.
Footnotes:
Chena has to cook well, otherwise it may cause allergies.