Nadan Urulakizhangu Mezhukkupuratti (kerala Style Potato Stir Fry)
Nadan Urulakizhangu Mezhukkupuratti is a tasty dish of Kerala. It is a yummy dish and very easy to prepare. This is a perfect finger food and delicious accompaniment of many meals. I learned this recipe from my grandmother.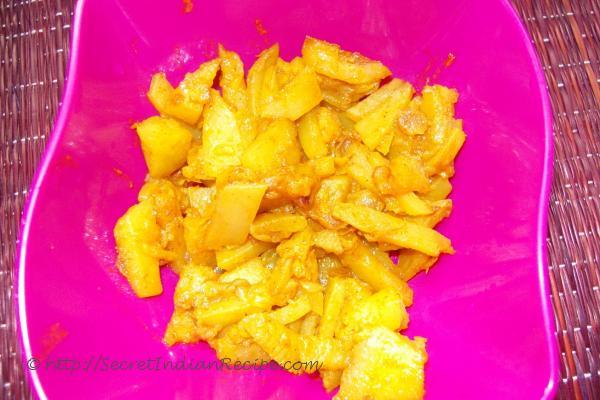 Ingredients:
Potato (Cut into long thin strips)- 2 medium nos
Onion (sliced) -1
Mustard seeds - 1/2 tsp
Green chilli-3
Curry leaves- few
Salt - to taste
Coconut oil - 1 tsp
Chilli powder-1 tsp
Turmeric powder-1/2 tsp
Water - 1/2 cup
Directions:
Wash potato slices well and keep it aside.
Heat coconut oil in a pan add mustard seeds.
When it crackles add curry leaves onion and green chilli, saute for 5 minutes.
Add potato, chilli powder, turmeric powder 1/2 cup water and salt.
Cover the pan and cook on a medium flame until it is fully cooked, stirring once or twice in between.
Serve with hot rice or chapatti.
Footnotes:
We can put potato slices in water for 10 minutes for discoloration.