Nadan Urulakizhangu Sambhar (potato Sambhar)
Sambhar is all time famous in South India. It goes well with dosa, idly and also with steamed white rice. It is a favourite dish of my son. In most of the marriage in Kerala they will make Urulakizhangu Sambhar for Sadya.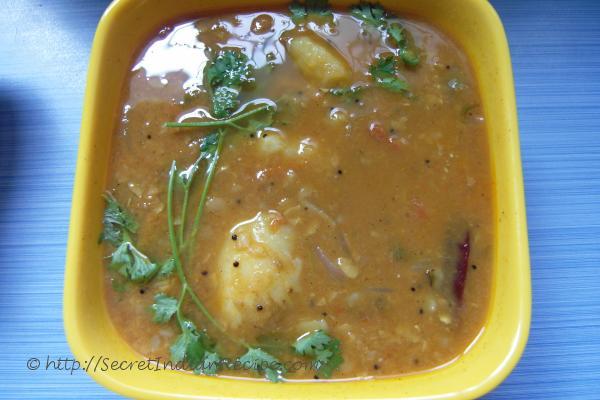 Ingredients:
Toor dal- (Yellow lentil)- 1/2 cup
Potato- 4
Tomato - 4
Green chilli- 3
Sambhar powder - 2 tsp
Hing - 1 pinch
Curry Leaves- Few
Chilli powder-1 tsp
Salt- to taste
Mustard - 1/2 spoons
Onion-1
Fenugreek seeds-1 tsp
Coconut oil -2 tsp
Water- 2cup
Tamarind paste- 1 tsp
Coriander leaves-few
Directions:
Cook toor dal with 1 cup of normal water and salt for 10 to 15 minutes till dal is completely cooked.
Cut onion, potato and tomato into large wedges.
In a deep pan add coconut oil and onion, saute for 2 minutes.
Add tomatoes and stir until it is soft.
Add potatoes, green chilli, turmeric powder, chilli powder, coriander leaves, hing and salt.
Saute for 5 minutes. Then add cooked dal with another 1 cup of normal water, mix well and close the pan for 5 minutes until it is cooked.
Stir occasionally. Now we can add tamarind paste. Boil for 2 minutes.
Heat oil a pan and add mustard seeds. When mustard seeds crackle, add fenugreek seeds, red chilli, curry leaves and sambhar powder.
Stir for some time and add this to cooked dal mix. Boil for 2 minutes. Add coriander leaves and mix.
Now Urulakizhangu Sambhar is ready to serve.
Footnotes:
When we boil toor dal put some coconut oil so that it will easy get cooked.