Nadia Aloo Bara (coconut Potato Cutlet )
Coconut aloo cutlet is a tasty snack. It can be served as a side dish also. Many kids don't like coconut but it tastes good when it is cooked with potato and spices. Those who don't like coconut they will love it...!! It is easy to cook and really tastes good.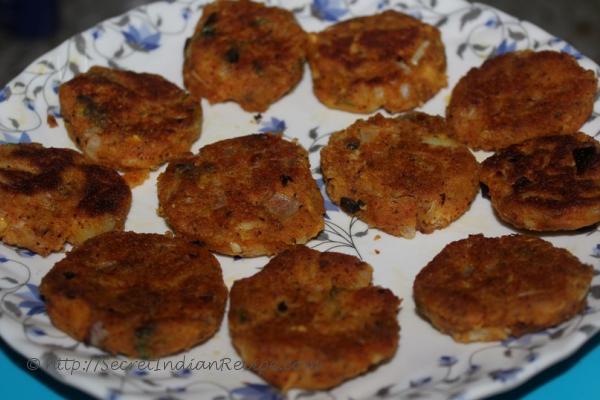 Ingredients:
Grated Coconut 2cups
Potato 1piece (boiled)
Onion 1large piece (chopped)
Coriander leaves 2teaspoon (chopped)
Cumin powder 2 pinch
Turmeric powder 2pinch
Red chilli powder 1/4 teaspoon
Cornflour 1teaspoon
Gram Flour( Besan) 1 1/2 teaspoon
Garlic 1 teaspoon (chopped)
Mango ginger 1 teaspoon (chopped)
Salt to taste
Water
Rice bran oil
Directions:
Take grated coconut in a mixing bowl.
Mash the boiled potatoes and add it to grated coconut.
Add chopped onion, chopped coriander leaves, chopped garlic, chopped mango ginger in to it.
Add cumin powder, turmeric powder, red chili powder, gram flour (besan), cornflour and little water, adjust the salt and mix it well.
Make small balls out of the mixture and fashion it in round shape .
Heat oil, place the round shaped cutlets over it and fry on both sides till golden brown.
Repeat the same for remaining mixture.
Ready to be served with sauce or chutney.