Naralachi Wadi (coconut Fudge)
As a kid, Naralachi Wadi was one of my favorite Indian sweets. My grandmother prepared these wadis during Diwali and on other special occassions. This was my first attempt making coconut sweets at home without any help. Suprisingly, they turned out great. This is one of the most easiest Indian dessert I have prepared without any hassel and without too many ingredients. Simple yet full of flavor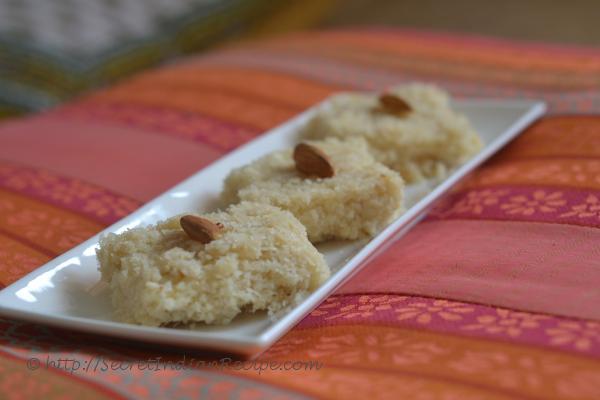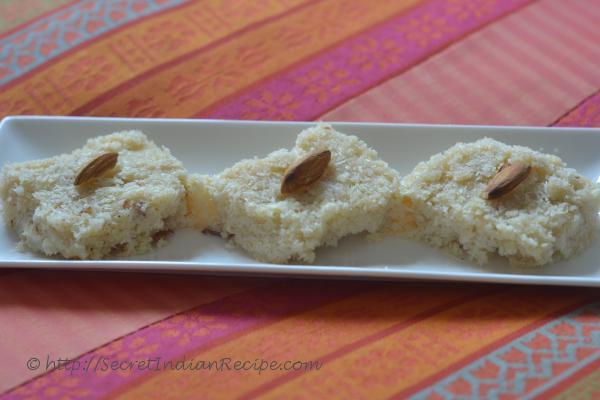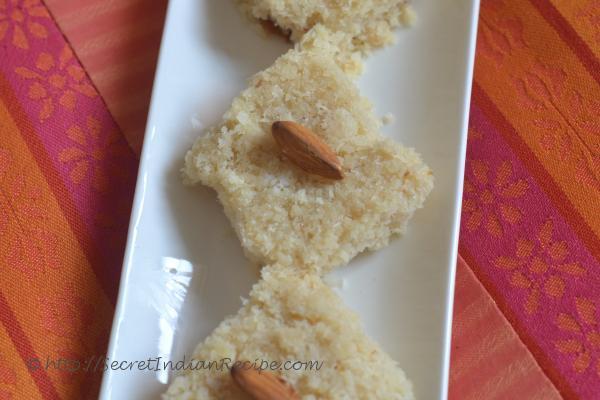 Ingredients:
Fresh Grated Coconut: 2 cups
Jaggery or Sugar: 3/4th Cup
Full Fat Milk: 1 Cup
Almonds for garnishing
Tup/Ghee or clarified butter: 2 Tsp
Directions:
Heat 1 tsp ghee in a non stick pan.
Add the freshly grated coconut and keep stirring continuously for one to two minutes
Add the jaggery or sugar at this stage. Give it a good mix.
Pour in the full fat milk.
Mix well and let the mixture cook on medium heat for about 30 minutes
The mixture will thicken slowly
You may add chopped almonds at this stage
Once the mixture comes together well, and when the coconut is becomes soft, remove the mixture from heat
Grease a pan with remaining 1 tsp ghee, spread the mixture evenly
Allow the mixture to cool down. Then gently cut out squares or diamond shape pieces.
Garnish each piece with a sliced almond and serve
Footnotes:
You may adjust the quantity of sugar or jaggery based on your sweet taste preference