Narial Kulfi (coconut Ice Cream)
I have very sweet childhood memories associated with this dessert recipe. During Summer holidays, we used to go to my grandmother's house In Uttar Pradesh. While My mother and Masi (Mother's sister) used to sit and chat in the courtyard, me and my younger brother used to stand in front of the main entrance looking for ' Kulfiwala'. Every day we used to have 2-3 Narial kulfi and my mother used to scold us fearing the unhygienic condition in which the Kulfi is made…..However I do not have that fear now as I can now make it myself easily.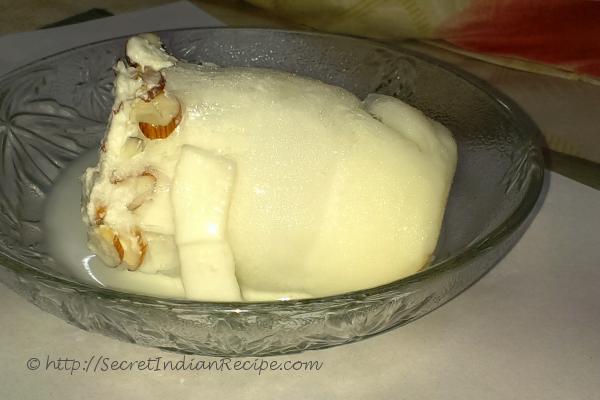 Ingredients:
Narial (Raw Coconut)– ½ Coconut
Milkmaid or Condensed milk – ½ cup
Sugar – 3-4 tablespoon
Cardamom powder – ½ tablespoon
Almonds – 4-5 pieces (Sliced)
Raw coconut – Few Slices
Directions:
Peel the outer brown layer of the raw coconut and then cut it into small slices.
Put the sliced coconut along with sugar in a grinder and grind it into a smooth paste. If necessary add 2-3 tablespoon of water. Now drain the grounded coconut through a sieve or muslin cloth to extract the coconut milk.
Take a large bowl and pour the coconut milk in it. Add milkmaid or condensed milk, cardamom powder, chopped almonds and sliced coconut pieces and mix well.
Now pour this into kulfi moulds and keep in deep freezer for 2-3 hours.
Before serving take it out from the freezer and open the moulds. Serve immediately.
Footnotes:
As this kulfi is made at home and we do not add any solidifying agents, it start melting as soon as it is out from the freezer. So take out your kulfi from the freezer just before serving.