Narkel Diye Capsicum Bhaja (coconut Stuffed Capsicum Fritters)
As I am born and brought up in Kolkata, I have a natural liking for Bengali food. In fact I often cook Bengali recipes and snacks. Narkel diye capsicum bhaja is one of the Bengali snacks which I can enjoy even at midnight.
I like capsicums for its unique flavor and taste and this recipe combines the sweet and crunchy taste of coconut with capsicum. The subtle pungent taste of mustard paste, poppy paste and chili paste along with coconut makes it a truly awesome snack. The best time to make this recipe is during winter season as you get fresh capsicum at cheaper price but more than that this hot and spicy snack will give you relief from chilly winter. You can enjoy this snack with your evening tea or serve it as a side dish with your lunch.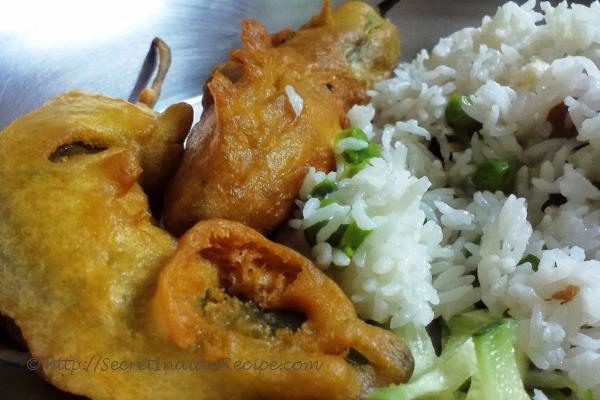 Ingredients:
Shimla Mirch (Capsicum) – 8 pieces
Grated coconut – ¼ cup
Mustard paste – ½ tablespoon
Green chili paste – ½ tablespoon
Poppy seeds paste – 1 tablespoon
Besan (Gramflour) – ½ cup
Red chili powder – ¼ tablespoon
Turmeric powder – ¼ tablespoon
Cumin powder – ¼ tablespoon
Salt – to taste
Oil for frying (approx ½ cup)
Directions:
Wash the capsicums and make a slit from one side to fill the stuffing.
For stuffing mix grated coconut, green chili paste, poppy seeds paste, mustard paste and required salt in a bowl.
Fill the stuffing carefully in all the capsicums and keep aside.
Combine besan, red chili powder, turmeric powder, cumin powder ans requires salt with water to make a thick batter…..the surface of the capsicum is smooth so if you make a thin batter, it will not be able to hold the capsicum.
Once the batter is ready, heat oil in a pan over medium flame. Take each capsicum and coat it with besan batter and then put in hot oil. Fry till the Pakora turns golden brown. You can add one or two pakoras at a time.
Sprinkle some chaat masala over the pakoras and serve hot.