Narkel Diye Thor Chenchki-banana Stem With Coconut
Thor is the most soft and central part of the the Banana plant. The old plant is cut down and the hard outer shells are peeled away to get the most soft interior which cannot be peeled. This part is cut into small pieces. While cutting a lot of fiber comes out which is thrown away.
This recipe can be served with roti/parathas or goes as a side dish with rice and other dishes.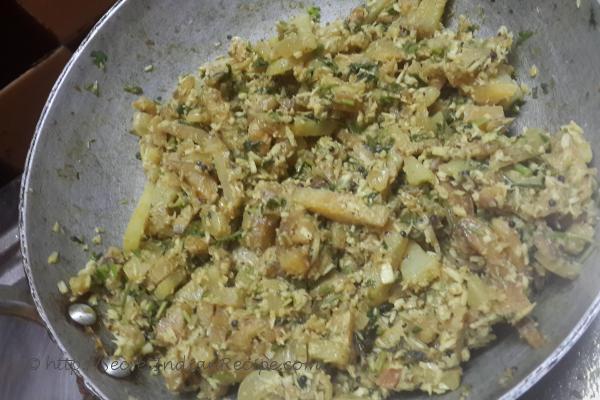 Ingredients:
Thor (banana stem) - 500 gms (cut to thin wedges)
Coconut - 1/2 shell (coarse/crumbled)
Potatoes - 2 nos. (cut to thin wedges)
Onion - 1/2 (finely sliced)
Corainder leaves - 100 gms (chopped)
Mustard seeds - 1/4 tablespoon
Red Chilli powder - 1/4 tablespoon
Mustard oil - 2 tablespoons
Turmeric - 3/4 table spoon
Salt - 3/4 table spoon
Directions:
After cleaning the banana stem, chop it into small thin wedges.
Put in a pressure cooker and add water and 1/2 table spoon turmeric and 1/2 table spoon salt in it. Let it boil and pressure upto 4 whistles.
Let the pressure cool. Then drain the remaining water. Keep the "thor" aside.
Peel and cut the potatoes into thin wedges and slit & chop the onions finely.
In a wok, heat the mustard oil till smoky and lower the heat. Add the mustard seeds and let it splutter
Now add the onions and let it fry.
When the onions are half cooked, add the potatoes and saute.
Add red chilli powder, salt and rest of turmeric and let cook again till the potatoes are half cooked.
Now add the boiled "thor" and mix thoroughly. Let cook for 10 more minutes stirring in between to avoid burning.
When both the thor and potatoes are well cooked, put off the heat.
Add the coarse/crumbled coconut and coriander leaves. Mix well.