Narkel Naru (coconut And Jaggery Fudge)
'Narkel Naru is the original Bengali sweet dish with religious importance. Just like we North Indian cook ' Halwa' to offer to God in many religious rituals, Bengali prepare 'Narkel Naru'. In Villages of West Bengal where there are no local sweet shops, villagers often make these 'Naru' and serve to their guests. I guess this is more due to abundance of the main ingredients – Coconut and Jaggery than due to choice. In Town and metros like Kolkata, Dhanbad, Asansol, the consumption of Naru is however more as religious offering during 'Sankranti' or ' Saraswati Puja'. The original Naru however is relatively tough to eat as the jaggery solidifies after it is cooked with coconut. This makes it hard to chew by kids and old people. I added a close substitute of Jaggery, Dates to make it little softer than conventional ' Naru'. So if you were avoiding 'Naru' for being hard to chew, try the following recipe.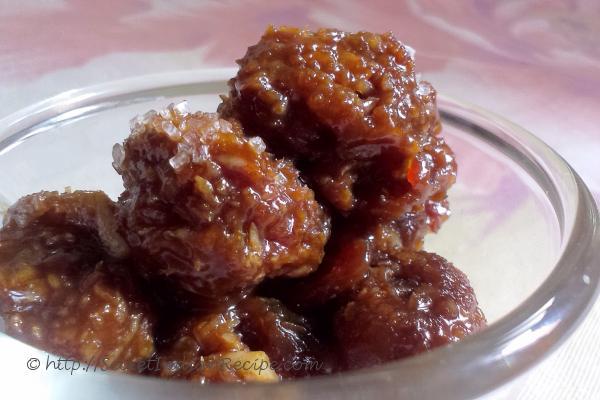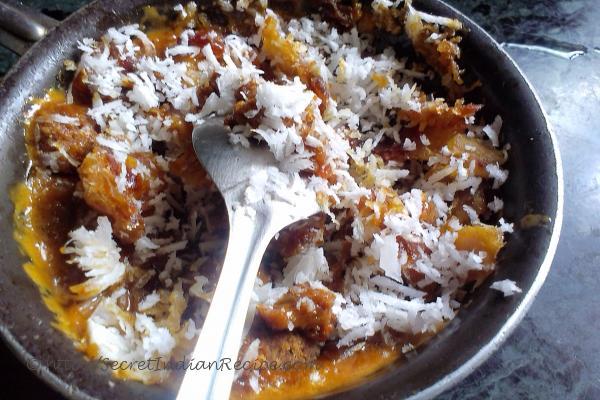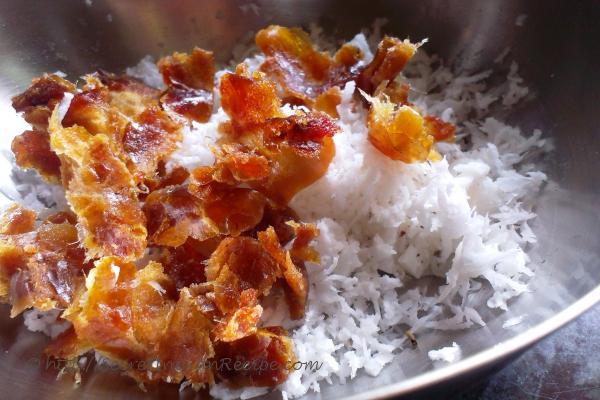 Ingredients:
Narkel (Raw coconut) – ½ coconut
Jaggery – 150 grams
Dates – ¼ cup (Optional)
Cardamom powder – a pinch
Directions:
Peel off the brown surface of the coconut and then grate it finely.
Heat a pan over the gas and then put the jaggery. Keep the flame low and let it melt.
Keep stirring to avoid it geeting burn from below. Once the jaggery melts completely, add the grated coconut and chopped dates.
Add the cardamom powder and mix carefully till the entire coconut is covered by jaggery.
Switch off the gas and let it cool for 10 mintues.
Apply few drops of oil in your palm and then take potions of the jaggery – coconut and dates mix and roll into small balls. The procedure till the mixture lasts.
Keep in refrigerator for an hour to solidify and then munch when ever you want.