Neer Dosa( Karnataka Cuisine)
Neer dosa is a delicacy from of Tulu nadu region in Karnataka part of Udupi Cuisine. 'Neer' is the word for water in Tulu and 'Neeru' is the word for water in Kannada. It literally means 'Water Dosa'. It is a crepe made from batter and is relished with a spicy curry and coconut chutney. I was introduced to this dish by my inlaws who belong to Bunt community from mangalore. Since then, I prepare it often for morning breakfast or evening snacks. It's a effortless recipe and the dosa batter does not require any fermentation.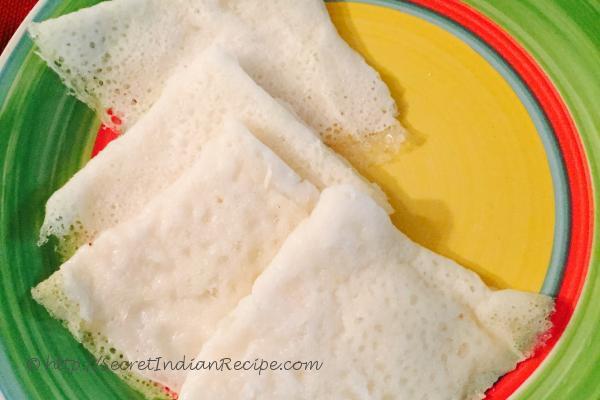 Ingredients:
1 cup Rice( basmati, Sona masoori or idly rice)
Salt as per taste
2 tsp grated Coconut (Optional)
Directions:
Wash and soak the rice in enough water overnight or 4-5 hours.Drain the rice and add it in a mixer/blender. Add 3 cups of water, grated coconut and a tsp of salt. Grind the mixture for 3-4 minutes till you get a smooth mixture like milk. Make sure that the mixture is not grainy.
Stir the mixture with a ladle. The coating on the back of the ladle should be thin and not thick. If there is a thick deposition of rice flour on the back of ladle, you need to add some more water.
Heat a non stick pan on medium high heat and drizzle some oil over it. Slice a potato into half. Take one half and use it to spread the oil evenly on the pan. When the pan is hot, drop a ladle of the batter onto the pan and move the pan in circular way so as to spread the batter evenly. As you pour the batter, you will see holes appearing on the dosa. Remember, the way of spreading neer dosa and masala dosa is different. Unlike masala dosa, we drop the neer dosa and twirl the pan clockwise to spread it like a thin crepe and don't use a ladle to spread it. Drizzle some oil on top and on the sides. Cover the pan with a lid and let it cook on medium flame for 2-3 minutes. After 2-3 minutes, remove the lid. When the sides of the dosa begin to rise easily with the help of spatula, fold the neer dosa into half and then fold this half into another half like a handkerchief, in the shape of a triangle. Take it out on a plate and let it cool for another 5-7 minutes.
Serve the neer dosa along a spicy curry and coconut chutney.