Neer Dosa Recipe.
Neer dosa means Water dosa which is prepared from Rice batter.It is light type of dosa and Kids enjoy this Neer Dosa.This dosa remains very soft for a long time.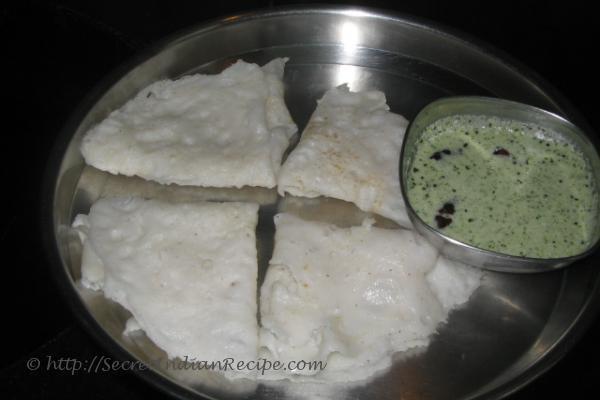 Ingredients:
Sona masuri or any other short grain raw rice - 1 Cup.
Cooked rice - 2 tablespoon.
Fresh grated Coconut - 1/2 Cup.
Salt to taste.
Refined Vegetable oil - 4 tablespoon.
Directions:
Wash and Soak the rice in water for 8 hours(over night).Then drain the water.
Grind it to a smooth paste along with grated coconut.
Pour water and thin out the dosa batter. The batter should be very very watery. Add required salt.
Heat a dosa pan on medium low heat.The tawa should not be very hot.
Pour a ladleful of batter in the tawa and rotate the tawa so that the batter spreads evenly.
Drizzle few drops of oil,cover with a lid and cook on low flame for a minute or two.
Gently remove the dosa and fold it into a triangle.
It is a very delicate dosa and needs careful handling.
Serve it hot with Chutney/Sambar or Chutney Powder of your choice.
Footnotes:
This Dosa remains white and does not turn a golden color.
You can vary the coconut quantity according to taste.