Netholi Varuthathu Shaap Style (toddy Shop Style Anchovies Fried)
Netholi or anchovies come in two sizes one is very small and hence dried for dry fish recipes, pickled or used to prepare meen peera a dish that cooks fish with grated coconut and kokum. Now the slightly bigger ones have scales and are used in curries and for fries. They taste heavenly. The normal marinade for fish fry includes turmeric, chili powder, salt and oil but the toddy shop style of fish fry is quite famous. This recipe is from a toddy shop we visited recently. Toddy shops that sell local liquor tapped from coconut palm trees, have now opened a friendly wing for families to enjoy their food. This netholi fry was served with some fried shallots and curry leaves I omitted that part but the marinade is exactly the same.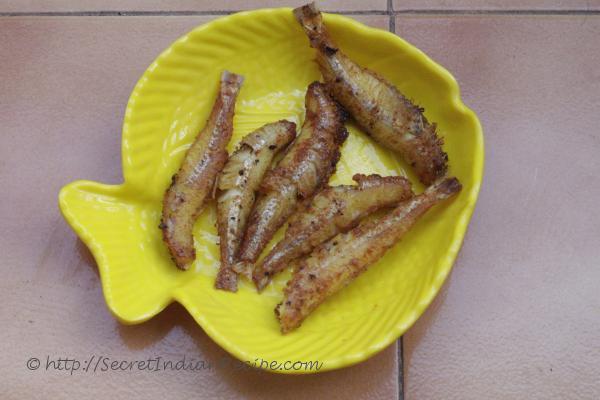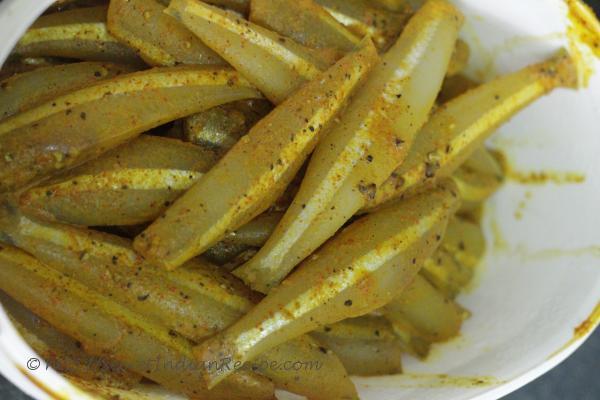 Ingredients:
Anchovies- 500g
Shallots- 1 cup
Turmeric powder- 1 tsp
Chili powder- 1/2 tsp
Salt- to taste
Green pepper- 1/2 tsp
Garlic- 4 cloves
Coconut oil- 2 tsp+ for frying
Vinegar- a dash
Directions:
Grind the green peppers in a mortar and pestle with garlic and peeled shallots.
Mix this paste in a bowl using a spoon with vinegar, salt, turmeric, chili powder, salt and 2 tsp coconut oil.
Wash and clean the anchovies and marinate them with this marinade. Let the fish on the counter top for 1-2 hours
Heat coconut oil in a frying pan and deep fry the anchovies till golden yellow. Serve with a side salad or just as it is.
The side salad includes sliced onions and lemon wedge usually.
If you like a new layer of spice coating, saute some minced shallots and curry leaves till they brown.
Toss the fried anchovies in the fried shallots and add a dash of pepper powder. Serve immediately.
Footnotes:
Vinegar from coconut palm toddy lends a beautiful flavour.
Other Indian Recipes that you may Like !