Neychoru (malabar Style Ghee Rice)
After biryani, this is the most popular rice form in the Malabar cuisine. It is a mildly spiced rice with loads of ghee. Served with chicken or mutton curry, this is the rice that is served on festivals and ceremonial banquets. Some versions suggest cooking the rice in coconut milk but this version does not require coconut milk.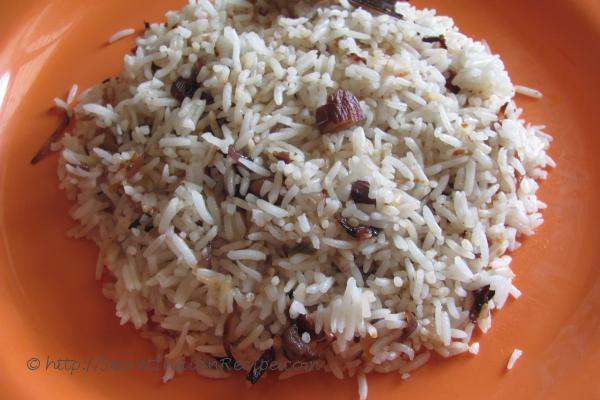 Ingredients:
Basmati Rice- 2 cups
Hot water- 3 and 3/4 cups
Ghee- 4 tbsp
Cashew nuts - 10- 12
Raisins- 10
Green chilies- 2
Salt- to taste
Star anise-1
Green cardamom- 3
Pepper corns- 5
Cinnamon- 1 inch stick
Onions- 3
Directions:
Wash and soak the rice in 2 cups of water for 20 minutes. Slice the onions finely and fry them till dark brown in a deep pan.
Set them aside in a plate and fry the nuts and raisins in 1 tsp ghee. Once the raisins and nuts have browned take them out and add the remaining ghee.
When the ghee is hot add the whole spices and let them roast a bit.
Now add the finely sliced green chilies and saute for 2-3 minutes. Add the rice followed by salt and saute carefully without breaking the rice.
Add the hot water and bring the rice to boil. Bring the flame to simmer and cover the pan with a lid.
Cook till the water evaporates and add the fried nuts, raisins and onions over the rice. Cover the lid and keep aside for 5- 10 minutes.
Give a gentle stir with spoon before serving so the nuts and onions spread evenly to the whole rice.