Ninaava-which Has No Name " Ni " Is None & "naav " Is Name In Marathi
#RegionalUnknownRecipe
Ninaava ( Unknown – Which has no name ) itself is the name of this traditional dish made in the CKP i.e Chandreseniya Kayastha Prabhu community of Maharashtra. Ninaava is a sweet or a dessert made of gram flour and like a cheesecake block consistency cooked in coconut milk and jaggery and spiced with cardamom and nutmeg powder.
It was traditionally made over charcoal wood so the baked or coated crisp coating would be because of charcoals placed above and below the covered vessel. In modern times an oven is used to give the same effect. It is usually made once a year as though it is tasty is a little difficult to get it right and has an importance during the end of the Shravan month of the hindu calendar when its made
The origin of the CKP Community lies in the valley of Chenab river in Kashmir and Sindh . Around the 7th- 8th century the community migrated towards central India and around the 12th century towards the konkan coast and settled there. Today CKP's are found located in mostly urban places in Maharashtra including Mumbai, Thane, Kalyan, Pune, Nagpur, Nashik and some parts of the state Gujarat & Madhya Pradesh.
They are considered a part of the larger sub group of kayastha community found in the North and Bengal but since they come from the lineage of king Chandrasen with Sanskrit being the spoken language back then and further migrating towards central india and maharashtra a few of cooking methods and language have been adapted like use of coconut along the konkan coast.
CKP food has an influence of Kashmiri cuisine as poppy seeds (khus-khus) is liberally used in their traditional cooking because roots of the CKP community lie in Kashmir.
A lot of their original authentic dishes have a unique name and is slightly different in preparation such as the "Khaja" cha "kanavla" which resembles the maharashtrian "karanji" but has several layers to it resembling the "khaja" of the north hence the name , or this "Ninaava" which literally means "no name" being uniquely made only in this community.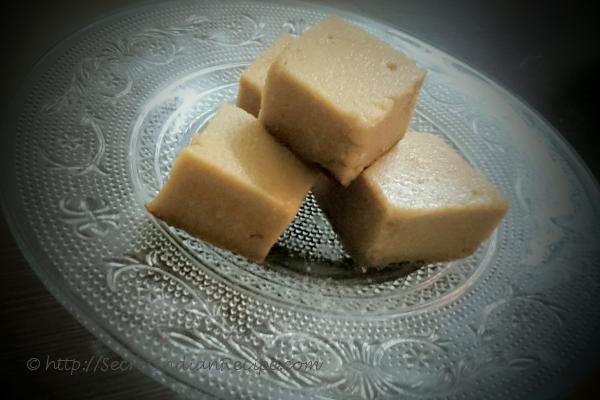 Ingredients:
3 cups Gram flour ( use Chana dal which is nicely toasted over low flame for few minutes and then ground into a coarse gram flour )
3 cups grated Jaggery
5 cups Coconut milk
4 tsps Ghee
A pinch of Cardamom pwd
A pinch of Nutmeg pwd
A very small pinch of Salt to taste
Directions:
1) Heat the ghee over a low flame and nicely roast the above grounded gram flour for a few minutes without burning and keep aside.
2) In Coconut milk add the grated jaggery, roasted gram flour, salt and mix well to avoid lumps.
3) On a low flame keep stirring continuously to avoid burning and cook this mixture until it thickens.
4) As the mixture thickens, lastly add the cardamom and nutmeg pwd to taste and mix well. If at all you find the mixture too thick can add very little plain regular milk . The consistency should be like a soft pudding or a cheesecake which will set and be able to cut in blocks upon cooling.
5) As the mixture is nice and thick without any lumps, switch off the gas and transfer it into a greased cake mould and bake in the oven for about 20 – 30 mins at 170 degrees until it forms a light crisp coat. You should be able to cut it into slices or blocks like a soft cheesecake once cooled.
Footnotes:
Try cooling and refrigerating for a better slice or a block to be able to cut of this dish. A lot of times it is also shallow fried in Ghee before serving.