Ninava ( Gramflour, Jaggery And Coconut Milk Based Sweet Dish)
Ninava is a traditional dish of the CKP Community made especially 2 days prior to Ganesh Chaturthi. This day is called Daata. I love how the flavours come together from the besan jaggery and coconut milk. It can be served like as a light dessert for a party. The sweetness from the jaggery doesnot over power you, but indeed fills up your sense. Thumbs up to Mother in law and Aunts for sharing down this recipe.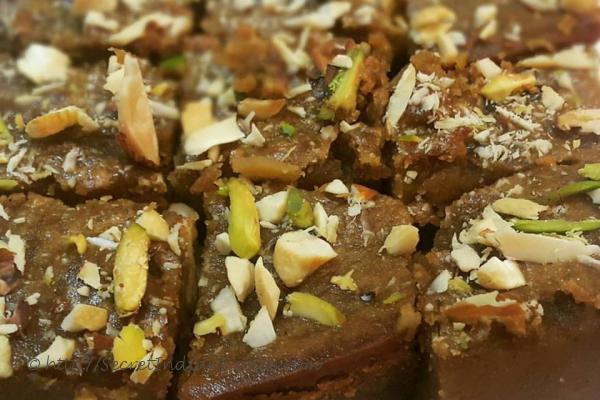 Ingredients:
1 Cup Besan ( Gramflour)
1 tbsp Rawa( Semolina)
1 tbsp Whole Wheat Flour
1 tbsp Rice Flour
3 Cups Coconut Milk
1 ½ cup Jaggery, powder or Grated
1 tsp Cardamom (Elaichi) Powder
1 tsp Nutmeg (Jaiphal) Powder
Pinch of Salt
Directions:
Combine all the Flours and dry roast on slow gas until nice and fragrant . Make sure not to burn. Cool Completely.
Once absolutely cool, Combine the Roasted Flour, Coconut Milk, Elaichi Powder, Jaiphal Powder and Jaggery. Mix well to avoid any lumps.
Place your Mix on slow gas and continuously stir till the mixture thickens like a Pithla or Halwa. It's important to mix continuously so to avoid the batter from sticking below or forming lumps
Grease a cake pan with ghee .Spread the batter in the pan and sprinkle lots of chopped dry nuts. Bake at 180 for 35 min or till knife comes out clean
Have Patience and Cool completely before slicing . Your Ninava Is ready to be served.