Njandu Ulathiyathu (crab Roast)
Crab is a very nutritious seafood. Despite being so difficult to clean and eat; it is very tasty and healthy. It is not easily available in our area but still today I got some crabs. So I decided to make some crab roast. Here is the recipe of crab roast for all seafood lovers.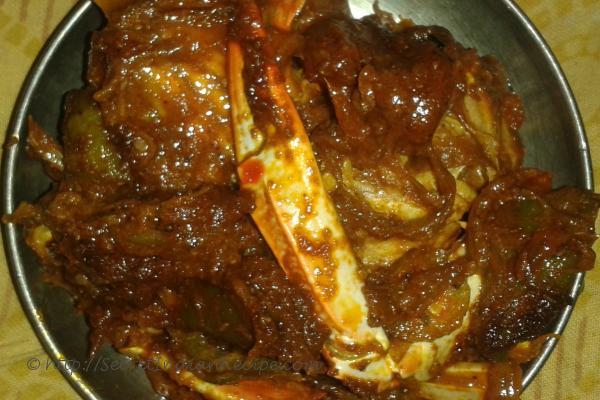 Ingredients:
Crab medium sized-4 no
Onion, sliced -1 cup.
Green chilli - 4 nos.
Chilli powder-2 teaspoon
Turmeric powder-3 pinch
Garam masala-1 teaspoon
Curry leaves -2 sprigs
Oil-10 tablespoon
Salt –as you need.
Directions:
First clean and cut the crab.
For cleaning the crab do the following.
Detach the legs of the crab. Cut it crab into two pieces from the center. Clean the pieces and legs under running waters for 2 minutes. Take water in a bowl and add salt and turmeric powder into it. Immerse the crab in the water for about 15 minutes. Take it out from the water and drain it. Crab is now cleaned.
Switch on the stove and place a pan on the stove.
Add oil into the pan and heat it.
Add onion, curry leaves and green chilli to the oil and sauté until it reaches a golden-brown color.
Then add chilli powder, turmeric powder and garam masala powder and salt. Sauté it for a minute.
Add the crab to it and add enough water to it so that the crab gets cooked well.
Cook it covered for about 5-7 minutes.
When it is cooked, open the lid and allow the excess water to evaporate.
Then saute it for two more minutes in oil until all the crabs are coated with masalas.
Crab roast is now ready to serve.
Footnotes:
Crab has a warm effect on the body, so it is preferably eaten in winter.
Other Indian Recipes that you may Like !