Njandu Varutharacha Curry (crab Curry)
This is my favourite way of preparing crab curry. This is the traditional method of preparing crab in the central Kerala.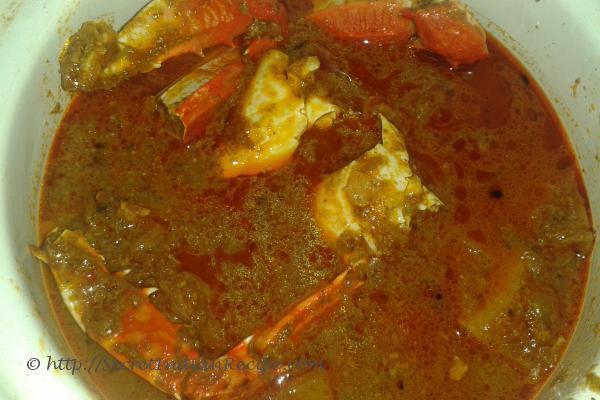 Ingredients:
Crab medium sized -4nos
Onion-2 sliced
Chilli powder -3 teaspoon
Potatoes-2 big
Oil-2 table spoon
Turmeric powder -3 pinch
Grated coconut - 1 cup
Curry leaves -2 sprigs
Coriander powder-11/2 teaspoon
Garam Masala powder -1 teaspoon
Small onion- 2 nos.
Green chilli -5 nos.
Directions:
First clean and cut the crab.
Switch on the stove and place a frying pan on the stove.
Then fry the grated coconut in the pan along with small onion and curry leaves till it reaches a dark brown colour.
Then add chilli powder, coriander powder, turmeric powder and garam masala powder and fry it for 2 more minutes.
Then grind it into a smooth paste.
In a pan, add oil and sort the sliced onion and green chilli and curry leaves till it reaches golden brown.
Then in an earthen pot, add sorted onion, green chilly curry leaves, crab, potatoes and water and bring to boil.
When it boils, reduce the flame.
When it reaches a semi thick consistency, remove it from flame and serve hot.
Footnotes:
If you love traditional Kerala recipe please try it out. I am sure you will love it.
Other Indian Recipes that you may Like !