Norom Pak Aam Sandesh ( Melting Mouth Mango Sandesh ) .........
Summer in India is synonymous to Mango for Foodies ............. Each state in our country boast's of having varied varieties of this king of fruits .........
Today I am sending my one an only melting mouth mango sandesh which is fabulous dessert in Bengal ......
Here paak means cooked . The kneaded chenna which is cooked very little to achieve a melt - in - mouth texture is called Norom Paak Aam Sandesh ......
The Aam Sandesh is a super soft and just melted away .
The mango flavour came out just strong enough to confirm its presence ............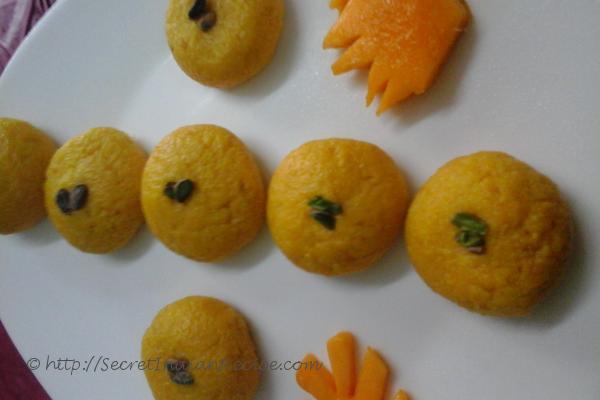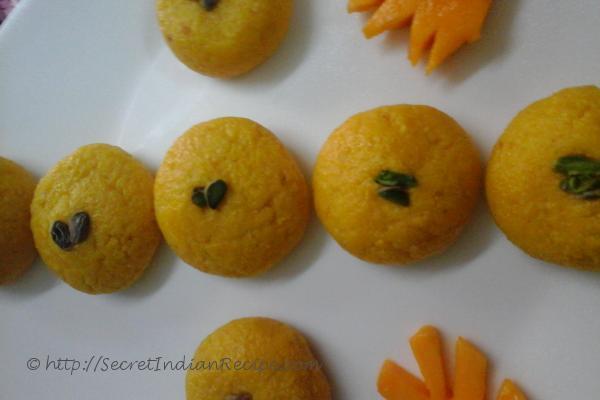 Ingredients:
500 gm Full cream milk
1 cup Mango pulp
3 tablespoons of Sugar
1/2 teaspoon of lime juice or a pinch of citric acid
Chopped Pistachios for garnishing
Directions:
Take milk in a pan and bring it to boil .
Mix in the lime juice or citric acid and stir till the milk curdles and the whey separates.
Turn off the flame and let it stand for 2 minutes .
Strain the mixture into the muslin clothes . Take the channa in a plate and knead it with the heel of palm for 5 - 10 minutes to get a smooth and doughy texture .
In a non stick pan add the mango pulp and mix in the sugar .
Add the kneaded chenna to it and on low flame keep stirrings continuously to avoid burning the chenna .
The chenna will gradually change colour as it gets mixed with the mango pulp and will become lumpy . This should take 10-15 minutes of continuous stirring .
Removed from heat and allow to cool enough to handle with hands .
Now simply shape them in round balls and press the top with a finger tip to place the chopped pistachios .........
Footnotes:
If u have the sandesh mould then grease them and press it on the mould gently , smoothen the edges and take it out of the mould from one end very carefully .