Oats Banana Pancake
Oats banana pancakes is the best things one can have for breakfast, it's packed with nutrition and it is filling.
When you are in rush in the morning , cooking oats banana pancakes is a good option for a healthy breakfast. Though I stay at home but being busy in the kitchen work always is something I try to minimize hence I come up with quick cooking dishes but ensures it's fulfilling and healthy too .
These pancakes are very light in sweetness. Serve it hot with cottage cheese on top of it, lots of fruits and honey drizzled over it .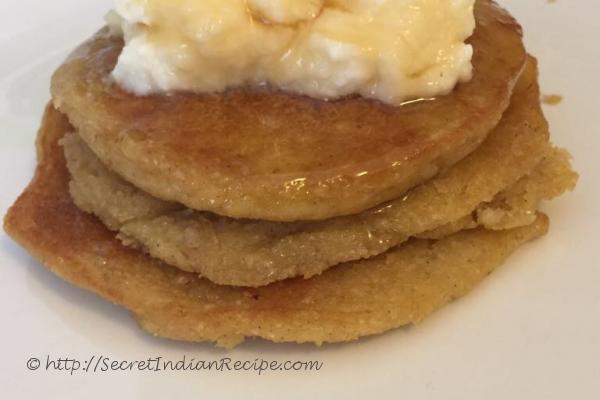 Ingredients:
Cottage cheese
1 cup oats ( coarse oats preferably, instant oats may also works
2 medium size Bananas
Milk to make Batter
Pinch of Salt
1 tsp of Cinnamon powder
Honey
Fruits
Directions:
Grind the oats to coarse powder.
Mash the bananas into puree.
In a mixing bowl add powdered oats, mashed bananas , pinch of salt, cinnamon powder and mix them well to hard dough like consistency, pour some milk to make semi loose batter (batter shouldn't be runny , it should be thick ).
Heat a Non stick pan on medium heat with some desi ghee and then add 2tsp of batter for 1 pancake and spread gently to get a round shape.
Cook on medium heat until both sides are golden brown, it takes around 10 mins to cook both side.
For serving stack all the pancakes on to a plate, put a good amount of cottage cheese on top of it and drizzle good amount of honey over it.
Lastly put lots of chopped fruits on it and enjoy the goodness of oats banana pancakes.
Footnotes:
I haven't used sugar as over riped bananas give natural sweetness to pancakes but if you like extra sweet , you can add additional sugar as per taste.