Oats Basket Chat With Oats Pakore
Chaat is a savory snacks, typically served at road-side tracks from stalls or food carts in India.The original chaat is a mixture of potato pieces, crisp fried bread dahi vada or dahi bhalla, gram or chickpeas and tangy-salty spices. Oats Basket Chat with Oats Pakore is my own innovation for a healthy chatpata snack, where the basket is made of a fried oats dough. The basket contains boiled kala chana and oats pakore, flavored by green chutney, tamarind chutney, yogurt and other spices like chat masala, cumin powder, chilli powder and salt.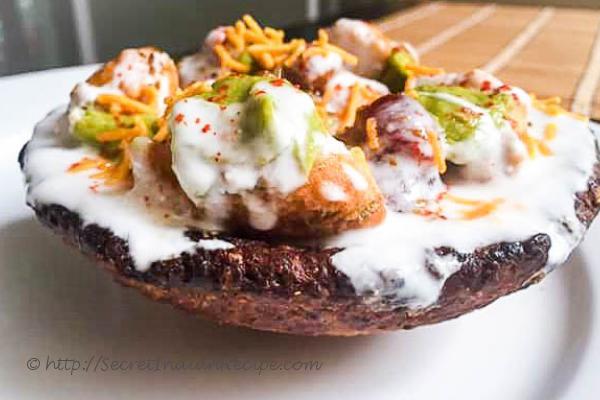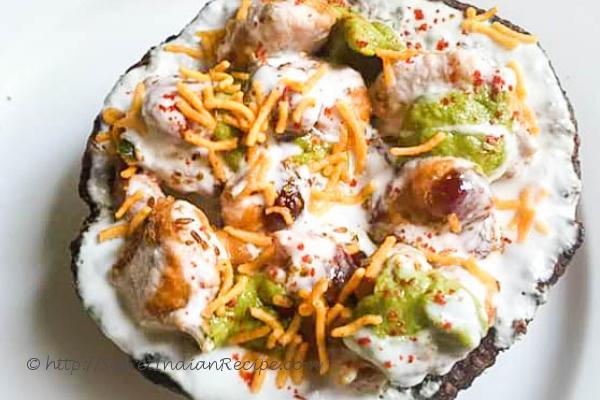 Ingredients:
For Oats Basket :
1/2 cup All purpose flour (maida)
1/3 cup whole grain rolled Oats
1 tsp Sugar
2 1/2 tbsp unsalted Butter( cold)
1/4 tsp Salt
Cold water to knead (adjust as required)
For Oats Pakore :
1/4 cup whole grain rolled Oats
1/4 cup Chickpeas flour(besan)
2 tbsp Rice flour
Salt as per taste
1/2 tsp Red chilli powder( adjust as per taste)
A pinch of Turmeric powder
Dash of Hing or Asafoetida
1 tbsp finely chopped Coriander leaves
4-5 finely chopped fresh Curry leaves
1/4 tsp Cumin seeds
1/4 tsp Fennel seeds
Other Ingredients:
1 tbsp finely chopped Tomatoes with seeds removed
1 tbsp finely chopped Onions
1/2 tsp Red chilli powder
1 tsp roasted ground Cumin powder
1/2 tsp Chat masala
Pinch of Salt
1 cup of beaten Yogurt
1/2 cup Kala Chana ( Brown Chickpeas)
1 tbsp Aloo thin Sev( Readymade from market)
1/4 cup Green Coriander or Mint chutney
1/4 cup Tamarind chutney or HoneyBBQ sauce
Directions:
Grind the oats into a flour like consistency mixture in a mixer/food processor. Add this into the mixing bowl. Sieve and add all purpose flour into it. Add salt, sugar and unsalted butter into the flour.
Mix all together lightly with your hand so that the flour is well coated with the unsalted butter. Add cold water 1 tbsp at a time and knead the mixture into a smooth dough. Cover it with a plastic clear wrap and refrigerate it for at least 30 minutes.
Put the chickpeas with 1 cups of water and salt in a pressure cooker. Close the lid and pressure cook till five to six whistles or till the chickpeas are soft. Keep it aside and allow it to cool.
Prepare the Oats Pakore . In a bowl, take the rolled oats and add 1/4 cup water and let it soak for 5 minutes.
In a separate mixing bowl, sieve the chickpeas flour and the rice flour so that there are no lumps. Add the salt, turmeric powder, red chilly power, hing, coriander leaves, curry leaves and cumin seeds. Mix well.
Add the soaked oats into the pakore batter and mix it well. Add water if necessary. The consistency should be thick yet pouring.
Heat sufficient oil in a wok.When the oil is heated, take little batter in your hand and drop it gently into the oil. Fry till the pakoras turn light golden in colour and become crispy.Take it out on a kitchen absorbent paper. Keep it aside.
After 30 minutes, take out the basket dough. Make medium size balls from it. Pat the balls a little flat and lay it flat between two wax or parchment paper. Use your hands or a rolling pin and roll the dough ball into a circular disc of 1/8 inch thickness.
Heat sufficient oil in a kadai or wok. Layer the bigger strainer with the rolled circular disc. Place the other strainer over the circular disc and press lightly. Gently lower both the strainers together into the hot oil and deep fry till golden. Drain and place on an absorbent paper and set aside. Similarly make the rest of the baskets.
Cool the basket for 10-15 minutes and then start putting the filling. First put 1 tbsp green chutney, 1 tbsp tamarind chutney and then 1 tbsp beaten curd. Then put some boiled kala chana. Add some fried oats pakore.
Add some finely chopped onions and tomatoes. Sprinkle roasted cumin powder, chilly powder, chat masala and salt. Again add 2 tbsp curd or more as required. Sprinkle again cumin powder, chilli powder and chat masala. Add 2 tsp (or as per your taste ) green chutney and tamarind chutney. Top it off with some thin sev.
Serve it immediately. Oats Basket Chat with Oats Pakore is ready.