Oats Bisebelabath
Oats Bisibelabath, a variation from normal traditional Bisibelabath but healthy too as we are using oats and lots of vegetables.Here instead of using rice i prepared oats, but the preparation method remains the same as that of the traditional bisibelabath. Oats are rich in fiber, it is very easy to digest & less calorie so you can take this as ur breakfast or lunch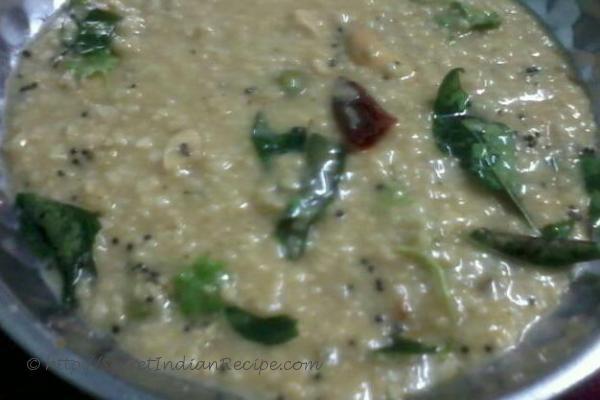 Ingredients:
Onion Shallots (Baby onions)-1/4 cup
Oats- 1 cup
Toor dal -1/2 Cup
Tamarind- 1 small lemon size
Turmeric - a pinch
Carrot , beans-1/2 cup
Tomato- 2
Green peas- 1/4 cup
Salt- to taste
Bisebelabath powder- 2 to 3 tbsp
For seasoning:
Oil- 1 tsp
Mustard seeds- 1tsp
Urad dhal- 1 tsp
Curry leaves- few
Cashews- 5
Red chilly- 1
Directions:
Peel the onions shallots and keep it ready. Take the vegetables and dal separately to the pressure cooker except the onions and Tomato and pressure cook the same. You may want to give 3 whistles in the pressure cooker for cooking the vegetables & dals.
.Soak the Tamarind in the waterand take the tamarind extract. If you are using the ready made Tamarind paste then you can ignore this step.
Heat the pan and fry the Oats for 2 minutes in a low to medium flame. You will get a nice aroma while frying the Oats.Take the oats in the plate & keep it aside.
Once we were able to open the pressure cooker, take the cooked vegetables and keep it ready. Also take the cooked dal and mash it nicely using a spatula
Heat the pan and add cooking oil. When the oil is hot, add mustard seeds& urad dal . When the mustard seeds starts to sputter, add cashews, curry leaves and red chilli fry for 10 seconds. Add the Onion shallots and continue frying for about a minute. Now add the chopped tomato and continue frying for about one to two minutes. Also add a pinch of Turmeric while frying.Add the tamarind extract and allow the mixture to boil for 5 minutes till the raw smellof tamarind goes off.
Then add the salt and the cooked vegetables and mix well and keep in flame for 2 minutes. Next add mashed dal and stir well. Keep the flame low and allow the mixture to boil. Make sure to stir occasionally to avoid dal sticking to the bottom of the pan.
Add the Bisibelabath Powder and mix well to avoid lumps. Let the mixture boil in low flame for about 5 mins. Add a cup of water and when the mixture starts to boil, add oats and mix well and keep the flame low and close the pan with a lid and allow it to cook.
After 2 mins switch off the flame.Now oats bisebelabath is ready .serve hot.
Footnotes:
You can add any vegetables as ur choice..like drumstick, potato, beetroot..