Oats Paan Panacota ( Oats And Betel Leaves Panacoat)
An innovative dessert recipe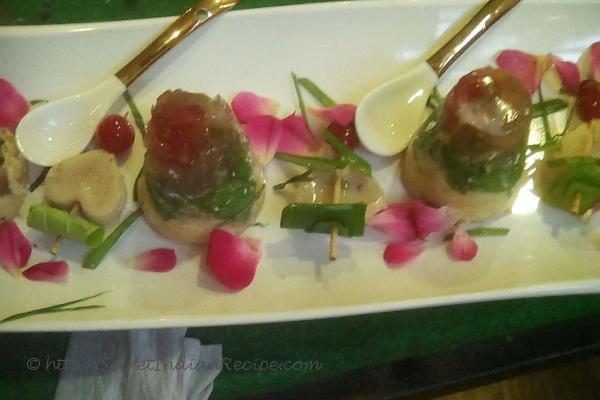 Ingredients:
Milk 1 litre
Quaker Milk Oats - 1 cup
Cardamom Powder - 1/2 tsp
Sugar - 5 tbsp
Gelatin - 50 grams
Paan leaf ( Betel leaf) - 1 piece finely chopped
Few rose petals
( FOR GARNISHING )
1 ready Meetha paan
Chopped cherries
Rose petals
Directions:
For gelatin - mix gelatin powder in water and keep aside for 10 mintues.
In a pan boil milk till it is reduced to half.
Add milk oats and cook for 5 mintues. Add sugar, cardamom powder, chopped paan leaves and rose petals.
Now pour the gelatin mix and stirr. cook for 2 mintues.
Put 1 cherry in a kulfi mould.1 ready paan and pour the ready mixture. Set it in freezer for 30 mintues.
Once set, demould and serve chillied.
Footnotes:
My own Awesome recipe very new n innovative....