Oats Rava Dosa ( Oats Semolina Pancakes)
Rava dosa is a popular south Indian breakfast dish but with the advent of oats we find our daily breakfasts altered and interspersed with oats. Oats rava dosa is one such variation where the traditional rava dosa has been modified by reducing the rava part and adding oats. It's not only an ideal breakfast it can be an ideal tea time snack or dinner option. And this again is one recipe that does not need fermenting. So forget those instant mixes and eat healthy.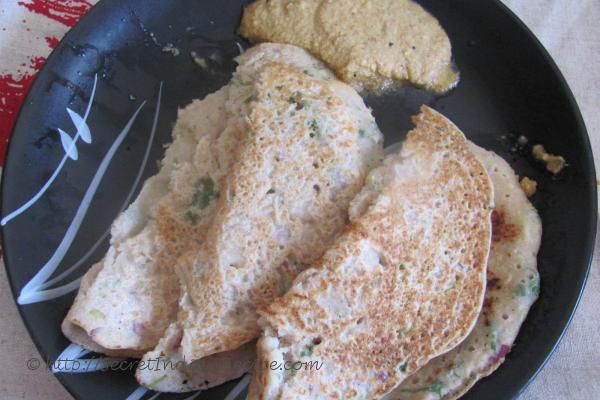 Ingredients:
Oats- 1/2 cup
Semolina- 1/4 cup
Rice flour- 2 tbsp
Curd- 1/4 cup
Coriander leaves- 1 sprig
Chopped onion- 3 tbsp
Peppercorns- 10
Chopped curry leaves- 6-7
Salt- to taste
Water- 1 cup
Oil- 4 tbsp
Directions:
Roast the oats and powder it in a grinder. Roast the rava though this is an optional step.
Chop the onion, curry leaves and coriander leaves finely.
Mix the powdered oats, rice flour and rava in a bowl. Add the chopped ingredients and peppercorns along with salt and curd. Add water and leave the batter for 15- 20 minutes.
The rava will absorb water so after the resting period add more water to make a batter consistency.
Grease the pan with oil and pour the batter to a pancake thickness. Cook over low flame till crisp and flip the dosa to the other side.
Cook both sides till crisp and golden brown. Serve hot with piping sambar and chutney.