Oats Semolina Uttapam ( Oats Semolina Pancake)
There is no perfect way to start a day other than a healthy breakfast. You may have heard the saying that a hearty bowl of oatmeal at breakfast "sticks to your ribs". However if you've tried oatmeal before and didn't like it, reconsider. I love experimenting with food and oats is my speciality :)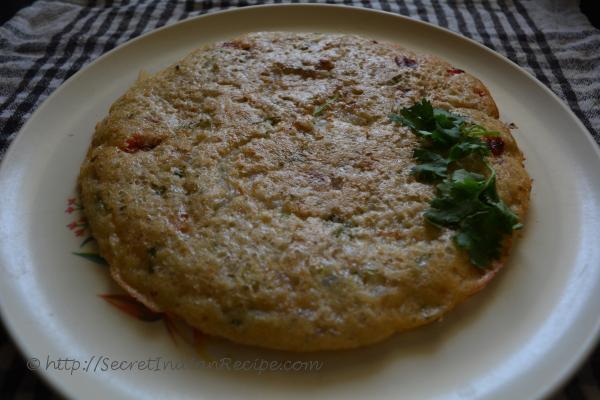 Ingredients:
1 cup Oats
1 cup Semolina
1 Onion - finely chopped
1 Tomato - finely chopped
2 Green Chillies - finely chopped (optional)
Coriander leaves - finely chopped
1/2 cup - Curd
1/2 tsp -Asafoetida powder
Salt to taste
2 tsp- Butter
Directions:
Mix oats and semolina in a bowl.
Add water and curd to give it a consistency. Let it sit for 10 minutes.
Meanwhile chop onion, tomato, coriander leaves and green chillies.
Add the chopped items to the batter. Add asafetida powder and salt and mix until just combined.
Heat a large non-stick frying pan over medium heat. Apply butter and scoop the batter onto the pan, making uttapams of any size.
Turn and cook for a further 1-2 minutes or until cooked through. Transfer to a plate and serve it hot with any chutney you like.
Footnotes:
You can add chopped capsicum and grated carrots to the batter.