Odiya Vegetable Ghanta - Daily Cuisin
Odissa is a State where fish is staple diet and even vegetables are cooked along with fish. Odissa has few selective Vegetarian dishes. My parents had many friends coming from Odissa. My mother learnt some of their daily vegetarian delicacies.Vegetable Ghanta is one of them.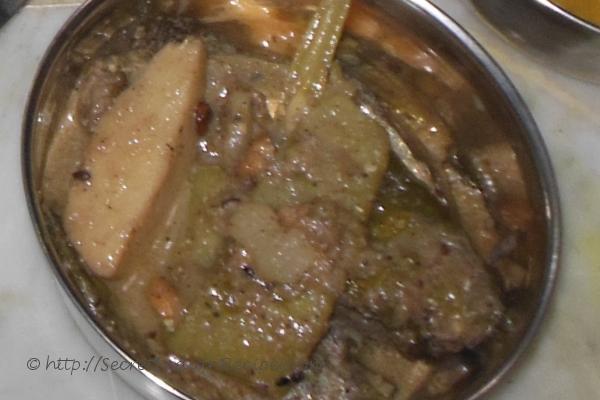 Ingredients:
Amurta Bhanda (Papaya)- 200 gm
Beans – 80 gm
Sajana Chhuin( Drumstick)- 60 gm
Baigana(Brinjal, Eggplant)- 175gm
Janhi( Ridge Gourd)- 130 gm
Mati Aloo(Yam) – 100 gm
Kakharu( Pumpkin)-100gm
Moola( Radish)- 100 gm
Barbati( Runner Beans) -100 gm
Aloo( Potato) -150 gm •
Piaja ( Onion)- 100 gm
Ada (Ginger) – 25 gm
Rasuna(Garlic) – 25 gm
Refine Tela (Refined Oil) – 100 gm
Haladi Gunda (Turmeric Powder)- 1 tsp
Pancha Phutan ( Pancha Phoran)- 4 tsp
Sukhila Lanka (Dry Chili) – 1 or 2( as per taste),
Lanka Gunda( Chili Powder)- 1tsp
Luna( Salt) – as per taste
Directions:
Cut the vegetables into medium small pieces. Cut the drumstick into 2 inch long pieces. Crush the ginger and garlic.
Heat oil in a deep pan, fry the badis till it turns golden brown, take out from oil and keep aside. Add pancha phutan, dry chili to the oil. Add crushed ginger garlic, fry it for 1-2 mins,add chopped onion. Stir well.
Add the vegetables except drumstick. Stir well. Put turmeric powder, curry powder, chili powder and salt to taste. Stir it properly and cover it.
Cook it on low flame. When the vegetables are half cooked ,add drumstick . Cover it and cook it till the vegetables are well cooked.
Crushed the fried badi' s and add it to the curry . Remove from flame. Serve with rice or roti.
Footnotes:
Seasonally coriander leaves,cabbage could be added.