Oil Free Aloo Paratha Recipe
This is my secret flavorful and oil free Aloo paratha recipe. The key ingredient of this recipe is the Boiled Aloo (Potato). The Potato should be boiled just in time of making this recipe. Potatoes boiled and kept in the refrigerator for long cannot be mashed properly and hence will not taste so good.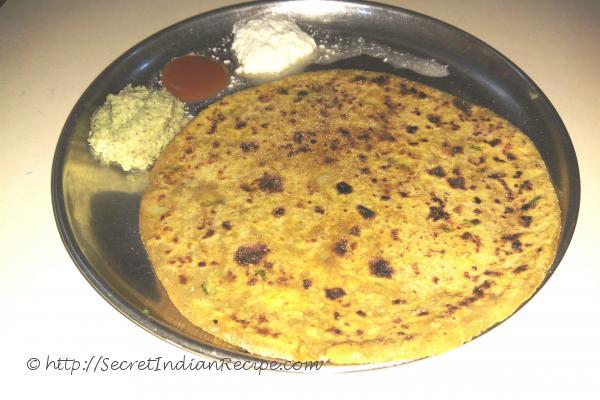 Ingredients:
Wheat flour – 500 grams
Boiled potatoes – 500 grams
Ginger Garlic paste -1 tablespoon
Red Chilli powder – 1 tablespoon
Turmeric powder – 1 tablespoon
Coriander and cumin powder – 1 tablespoon
Salt – to taste
Coriander leaves – ½ bowl chopped
Directions:
Mash Boiled Potatoes, add turmeric, coriander – cumin powder, red chili powder, ginger garlic paste, red chili powder, salt to taste and coriander leaves and mix well.
Make small size balls from the potato mixture.
Make a soft dough by adding and kneading water into the wheat flour.
Divide the dough into equal sized balls. Flatten each and fill the potato mixture and again roll them into a ball.
Roll it over rolling spin to make parathas.
Heat a tawa on low heat. Put the paratha and cook till both sides are cooked well and turn a little brown.
Serve hot with Chutney, ketchup or curd.