Omelette Curry (omelette With Gravy)
This dish is very delicious and healthy.Full of proteins and vitamins.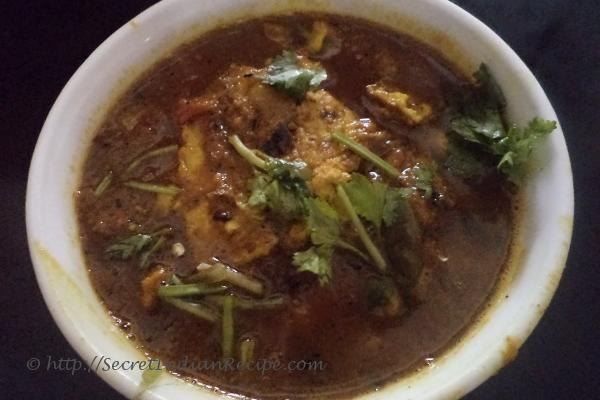 Ingredients:
Eggs - 4
Garlic n Ginger Paste-150gm
Tomato paste-100gm
Chopped onion-100gm
Chopped Green chili-5gm
Red Chili powder-2 gm
Oil-50ml
Salt-to taste
Turmeric Powder- 5gm
Garam Masala-5gm
Chopped coriander Leaves-10gm
Directions:
Beat the eggs. Add chopped onions, Salt, green chili and coriander powder and make omelette of it. Cut it into several pieces.
Take a pan and pour some oil into it.Add the Ginger n garlic paste into it.
Add salt, green chili paste and red chili powder and Cook it for about 10 mins and when it gets perfectly cooked, add Tomato puree into it and mix it well.
Afterwards,add some water into the pan and make gravy of mixture.
Add the Omelette and let it cook for few minutes.
After it gets garnish the dish with Garam masala and coriander leaves.
Footnotes:
Serve Hot with Fried Rice or plain rice and with lentil.
Other Indian Recipes that you may Like !