Onion & Tomato Uttapa (indian Pancake Made With Onions &tomatoes)
Uttapa or Uttapam is a traditional South Indian preparation. It is very similar to dosa, with addition of onions and tomatoes. Although it originated from Southern part of India, today uttapa is made all over India. It has become a popular breakfast recipe. In Mumbai you can also see food vendors selling uttapa on the street.
Now a days, there are plenty ready-to- make uttapa mixes available in the market, but I still prefer the old way of making my Uttapa at home and fermenting my batter overnight. Uttapa is also known as the Indian Pizza, as the original taste of uttapa is very neutral and any toppings of your choice can be added. I am making mine with Onions, tomatoes and chilies.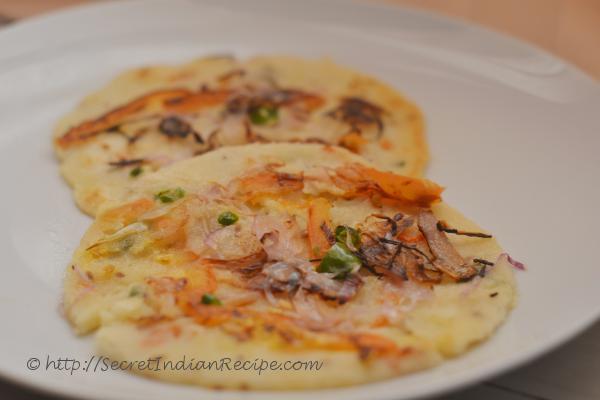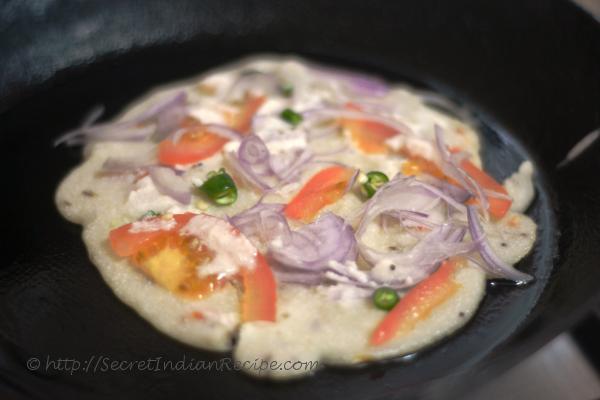 Ingredients:
For Batter::
Raw Rice: 2 Cups
Urad Dal whole: 1/2 cup
Methi seeds: 1/4 Tsp
Salt: About 2 -2.5 Tsp
Water as required
For Toppings::
Onion: 1
Tomato: 1
Green chilies: 2
Coriander : 1/2 bunch (Optional)
Oil: 2 tsp per uttapa
Directions:
Take a large bowl, rinse and soak rice in water, in a seperate bowl rinse and soak urad dal and methi seeds. Keep soaked for one hour
Blend the rice and urad-methi seperately using little water. Blend both to a smooth paste
Now mix both these batters and add salt. Keep this batter covered overnight or for 8 to 9 hours
After the fermentation process, the batter is ready and can be used for making dosas, uttapas or idlis.
Julienne onion, tomato and chillies. You may also finely chop them.
In a non stick pan, heat 1 tsp oil. When hot pour a ladle ful of batter in the centre and slowly spread it in circular motion. Do not spread too thin. Uttapas are supposed to be thick
Quickly add 2 tbsp of chopped vegetables on top, spread lightly
Allow the uttapa to cook on one side for 1 min and then slowly flip it. Let the veggie side cook for one min. Drizzle 1 tsp oil from the sides or on the veggie side of the uttapa
When the colour turns to golden brown, remove from heat and continue this process for the rest.
Serve uttapas with coconut chutney or sambar.
Footnotes:
You may also wish to add other vegetables of your choice