Otta Vadai (flat Crispy Vada)
Its a traditional snack in India. Usually served with evening Tea. This is my favourite from my childhood. It is a special item in festival seasons like Diwali and Janmashtami. You can store this snack up to 1 week.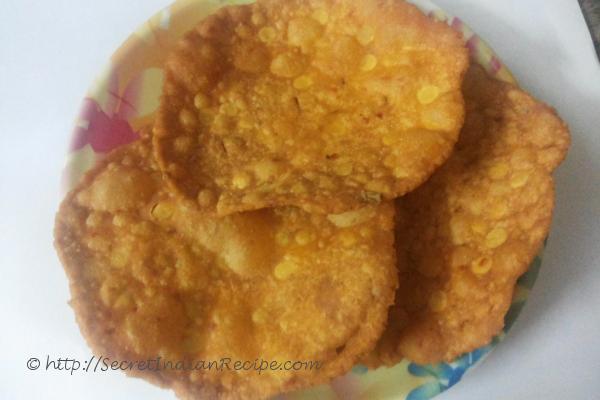 Ingredients:
Rice flour-4 cups
Urud dal flour-1 cup (Black gram flour)
Split bengal gram(raw)- 1/4 cup
Roasted gram - 5 Teaspoon
Red chilli-10
Garlic-7 cloves
Asafoetida powder- 2 pinch
Salt - as needed
Oil - 4 cups (To fry)
Directions:
Mix the rice flour and blackgram flour in a large bowl.
Grind the red chilli and make it as powder.
Add split Bengal gram, Roasted gram, Garlic cloves(crushed), Asafoetida, Red chilli powder and salt(to taste) with the flour.
Now mix all together well by adding required water and turn it into a soft dough.
Take out portions from the dough and make small balls.
Press the balls with hands to make thin vadas.
Now heat oil and fry the vadas in oil till they turn golden brown.
Ready to serve :)
Footnotes:
Can add more peanuts if u like.