Oven Baked Rashmi Kebab
Finally managed to make Oven Baked Reshmi Kebab with Shallots. Now no need to wait to go to the restaurants to have them. They can be easily made in the comfort of our homes and relished when ever one wants them :)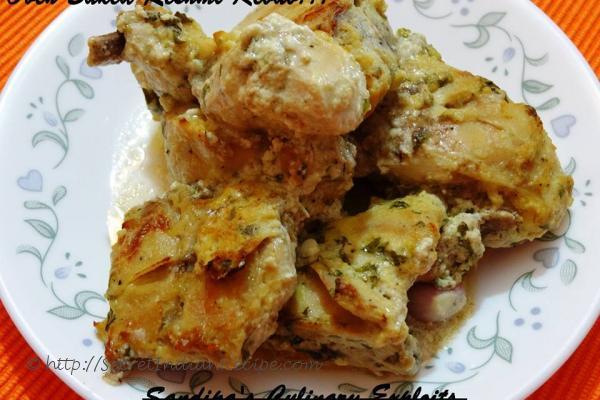 Ingredients:
400 gms Boneless Chicken Breast or Whole Chicken
1 Cup Curd (dahi / yogurt)
2 Tablespoon Ginger-Garlic paste
1 Teaspoon Cashew nuts and 1 Teaspoon Almonds
1 Teaspoon Lemon Juice
2 Tablespoon Fresh Cream
1/2 Teaspoon Red Chilli Powder
1/2 Teaspoon White Pepper Powder
1/2 Teaspoon Turmeric Powder
2 Tablespoon Fresh Coriander Leaves, finely chopped
1 Tablespoon Oil or Butter
Salt to Taste
Directions:
Rinse the chicken pieces in running water and cut into medium size chunks. Also soak almonds in water for about 20 minutes. Remove the skin from almonds and keep them aside.
Now in a big bowl, mix the curd, ginger-garlic paste, cream, salt, lemon juice, chopped coriander and spices very well.
Make the paste of almonds and cashew nuts and add into the marinade. Add about 1/2 tablespoon of oil in yogurt mixture and marinate pieces of chicken in it. Coat all the chicken pieces very well, cover the marination and keep it aside at least for 1 hour. (In this way chicken gets the flavors and juices of ingredients of marination).
Preheat the oven at 225 degrees for 5 minutes and line up the chicken pieces in a roast tray. Drizzle with melted butter/ghee
Broil for about 20 minutes until chicken becomes tenders and juicy, turn the pieces and broil for another 15/20 mins. Don't forget to drizzle butter/ghee again.
Serve hot with coriander chutney/ raita.
Footnotes:
I used a whole chicken with the above masalas. There was no chutney so threw in a handful of peeled shallots in the tray and they got cooked with the chicken....
Other Indian Recipes that you may Like !