Paal Kozhukattai (rice Dumpling In Sweet Sauce)
Paal kozhikkattai is a very popular chettinad sweet recipe prepared with sugar and coconut milk. It tastes great and is easy to prepare. The richness in the coconut milk with sugar makes the sauce so delicious and to add on the small balls soaked in the sauce fills everyone's mouth-watering...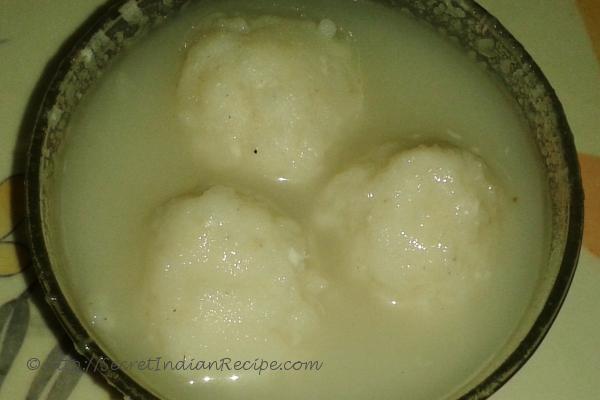 Ingredients:
Rice flour-1 cup
Hot-water-2 cups
Cardamom powder-1/2 teaspoon
Sugar-1 cup
Milk-2 cups
Coconut milk-1/2 cup
Directions:
Take a bowl and mix the rice flour in water to make a smooth paste.
Switch on the stove and place a thick bottomed vessel on the stove.
Add this batter into the thick bottomed vessel and stir continuously.
This should be done on low flame.
On continuously stirring the batter in low flame, it starts boiling and the water starts evaporating slowly.
The batter will slowly thicken and become like chappati dough. This is the right consistency.
Now switch off the flame.
Make tiny balls with this dough.
Boil two cups of water in a thick bottomed pan, add the rice balls to it and allow it to cook completely.
Add milk if the water reduces.
When the milk and the balls reaches a thick consistency, add the remaining milk, coconut milk and sugar.
When the mixture starts boiling, add cardamom powder and remove from flame.
Enjoy……
Footnotes:
Sugar can be replaced with jaggery.
You can use coconut milk instead of milk.
You can also use saffron threads if needed.