Paal Kozhukkattai ( Rice Flour Dumplings With Milk And Jaggery)
#MySteamedRecipe Paal kozhukkattai is one of the traditional sweet of TamilNadu. We can prepare this sweet in many ways. In this method we steam cook the tiny balls in idly cooker and then add it to the thick milk. You can also add coconut milk and jaggery. Healthy sweet for your kids.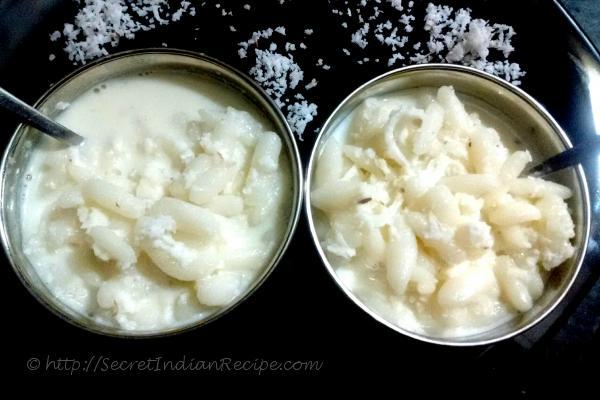 Ingredients:
Raw rice flour - 1 cup
Grated Coconut - 3/4 cup
Sugar - 1/2 cup
Milk - 2 cups
Cardamom powder - 1 tsp
Water - 1.5 cups
Directions:
Take a wide mixing bowl and add the rice flour. Boil the water and add it to the rice flour. Mix them nicely with a ladle. Then knead it to a smooth dough. Apply a drop of oil over the dough and keep it covered for 30 minutes.
Apply a little oil in your palms and make tiny balls of your desired shapes. I made small oblong shaped balls. For this measurement you will get around 40 to 50 balls.
Grease the idly plate with little oil and fill in each hole with 10 to 15 balls. Steam cook for 5 to 7 minutes.
Boil the milk and add the grated coconuts and cardamom powder to it. After a couple of minutes, add the cooked tiny balls to the milk. Then add the sugar and mix well. Allow it to cook for 7 minutes on low flame or until the milk gets thick. Slowly transfer it to the serving bowl. Tasty Paal kozhukkattai is ready. Sprinkle few coconut gratings on the top and serve it hot.