Pacha Manga Kichadi (raw Mango Salad With Curd)
It is commonly used as a side dish for Kerala lunch. It uses raw mango and curd as the main ingredients and hence it's sour in taste. It's my mother's special recipe and I just love it like anything. I tried it for my in laws and now it's their favourite too.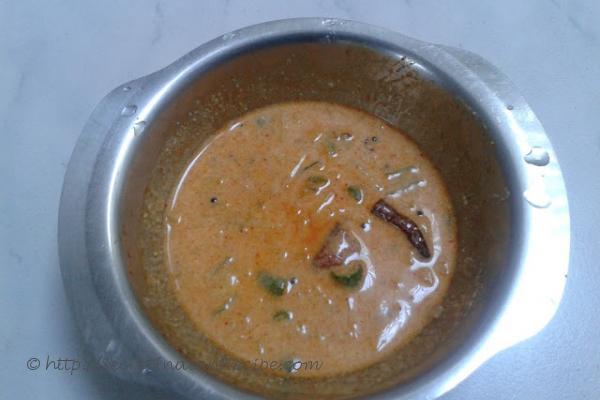 Ingredients:
Raw mango (big)-1
Green chillies-2
Red chilli powder- 1 tsp
Fenugreek powder- 1/4 tsp
Asafoetida powder- 1/4 tsp
Salt- as required
Curd- as required
Coconut oil- 2 tsp
Dried Red chilli- 2
Mustard seeds-1/2 tsp
Curry leaves
Directions:
Peel off the mango and cut into small rectangular pieces
Chop the green chillies and add to the mango pieces
Add red chilli powder, fenugreek powder, asafoetida powder, salt and mix well.
Heat coconut oil in a pan and add mustard seeds. When the mustard seeds splutter, add dried red chillies and curry leaves and sauté for one minute.
Add the sautéed mustard seeds, dried red chillies and curry leaves to the chopped mango pieces and green chillies and mix well. Keep aside for 1 hour.
After 1 hour, add required quantity of curd and serve along with rice.
Footnotes:
You can store this salad in refrigerator for 2-3 days.