Pachamulaku Aracha Panni Curry (green Chily Pork Curry)
This recipe is actually a fusion of two recipes. Half of the recipe belongs to my aunt's famous pork fry and the other half is inspired from the Andhra green chili chicken. I find this quite a healthy recipe because it uses green chilies and peppers instead of the conventional chili powder. I made this with green chilies, lemon and black pepper in my garden so I can vouch on the health part of my ingredients.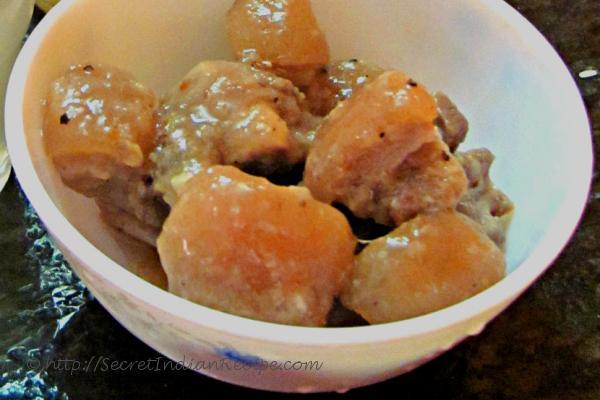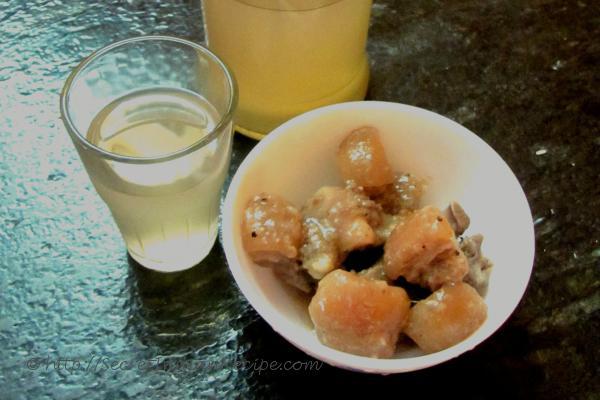 Ingredients:
Pork cubes- 250 g
Lemon- 1
Green chilies- 15
Garlic- 10 cloves
Ginger- 1 inch piece
Crushed Pepper corns- 10
Onions- 2
Salt- 1 tsp
Turmeric powder- a pinch
Water- 1 cup
Oil- 1 tbsp
Directions:
Grind 8 green chilies to a fine paste with a pinch of salt.
Marinate the pork with half the lemon juice, the ground green chilies, turmeric powder, half the ginger garlic paste and half the crushed pepper for 3 hours.
If you marinate it overnight it will taste even better. Pressure cook this pork with 1 cup water up to 3 whistles.
Heat oil in a pan and saute the remaining green chilies after slitting them. Set them aside in a plate thereafter.
Now saute the chopped onions till they are translucent. Add the cooked pork and saute it for 5 minutes.
Add the remaining lemon juice, ginger garlic paste and crushed pepper and stir fry till the gravy evaporated to 1/4th.
Add the fried green chilies as a garnish and serve the pork.
Footnotes:
This curry is very spicy so control the use of chilies according to your heat levels.
Other Indian Recipes that you may Like !