Pachkkaya Varuthathu /kaya Upperi (raw Banana Chips/plantain Chips)
I could never say I am a Malayalee or Keralalite food blogger if I didn't share this delicious crispy snack with you during this Onam season. It is a tradition in every house in Kerala to prepare banana chips and various other snacks during the days of Onam celebration. I love these homemade chips rather than that is bought from the shops. So I would like to share this recipe with all of you and my belated Onam wishes to all the viewers.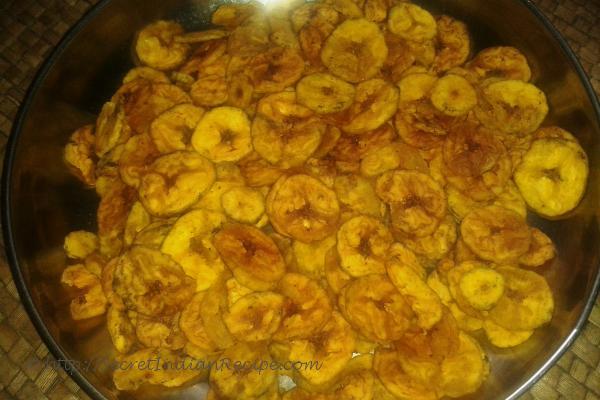 Ingredients:
Raw banana - 4 nos.
Salt-as you need.
Turmeric powder-1/4 teaspoon
Oil- to deep fry
Water -2 cups and a little more.
Directions:
Take two cups of water in a bowl and add half of the turmeric powder to it.
Peel off the skin of the banana or plantain and soak it in the turmeric water for about 30 minutes.
Take out the bananas from water and pat it dry.
Mix together salt and the remaining turmeric powder in water in a bowl.
Switch on the stove and place a frying pan on the stove. (I used uruli, a vessel used to prepare dishes in large quantity)
Heat it well but the oil should not be smoky hot.
The flame should be medium.
Cut the banana pieces with a knife or a slicer into thin round slices and put it into the oil.
Extra care should be taken to put the sliced banana pieces in batches otherwise it will get sticky to each other.
Fry it until it makes a crispy sound.
This is the right stage to add the water mixed with salt and turmeric powder.
This causes splashing of oil so be sure that either you stay away from the pan or cover the pan with a lid as soon as you sprinkle water over the chips.
Stir and fry it again.
When all the water content in the chips evaporates, take it out from oil and drain the oil using a tissue paper.
Once cooled, enjoy it with a cup of tea or coffee, or you can store it in an air-tight container.