Padavalanga Thoran (snake Gourd With Coconut)
This is a simple recipe, which reminds me of my childhood days..... My uncle was a farmer, and he used to cultivate snake gourd in our backyard. So this was one of the most common recipes that my grandmother used to make in our home. I still remember those funny days when my uncle told me that snake gourd was actually snakes that are being tied up in the rope and is mainly used to prepare dishes with the flesh of snakes. He still teases me by saying the same story to my husband and tells him that how I was afraid of the vegetable. This recipe is simple to make and the beauty of the curry attracts everyone, especially the kids.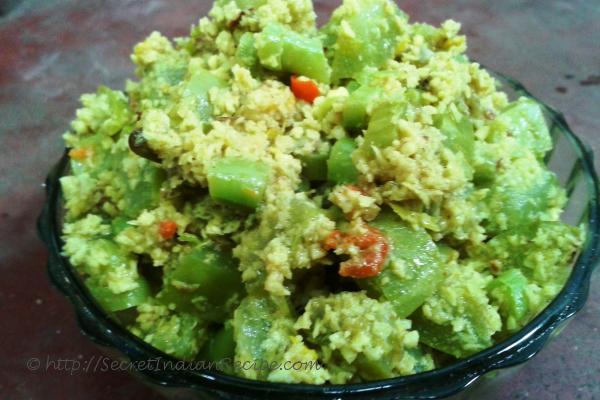 Ingredients:
Snake gourd - 250 grams
Grated coconut -1/2cup
Turmeric powder -2 pinch
Salt - as you need.
Green chilli - 4 nos. (2 green and 2 ripe)
Water-100 ml
Cumin seeds -1 pinch
Curry leaves -2 sprigs
Coconut oil-2 tablespoon
Directions:
Grind the grated coconut, turmeric powder, cumin seeds, green chilli, and curry leaves, roughly in a food processor and keep it aside.
Gently peel off the outer white skin of the snake gourd.
Cut the snake gourd into small rectangular pieces.
Switch on the stove and place a pan on the stove.
Cook the snake gourd along with salt, water and ground coconut with the lid covered for about 5-7 minutes.
Reduce the flame and remove the lid.
Evaporate the rest of the water from the snake gourd.
Pour the coconut oil on the top of the thoran and remove it from flame.
Cover the dish for about 3 minutes.
Just before serving, mix everything well so that the coconut oil will reach to all parts of the curry.
Snake gourd thoran is ready.