Pakoda Curry ( Gram Flour Pakoda Curry)
Normally pakoda is common tea time snack, we all enjoy it during rain with a cup of tea. When it is dipped in curry the pakoda becomes softer and tastes delicious with the spices inside it. It can be served as main dish as well as side dish.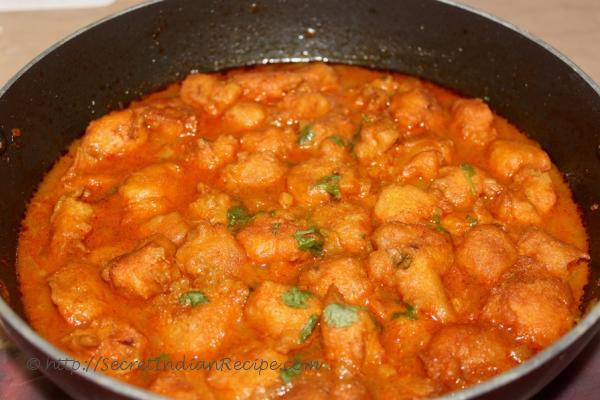 Ingredients:
For Pakodas
Gram flour( besan) 2 cups
Potatoes 2-3pieces (boiled and mashed)
Onion 1piece (chopped)
Green Chilli 2-3pieces (chopped)
Baking soda 1 pinch
Salt to taste
Cumin powder 1pinch
Water
Oil for deep frying
For Curry
Onion 2pieces (chopped)
Potato 2pieces(diced)
Ginger garlic paste 4tablespoon
Kashmiri lal mirch 2teaspoon
Red chilli powder 1/2teaspoon
Turmeric powder 1/2teaspoon
Cumin powder 1/2teaspoon
Coriander powder 1/2teaspoon
Garam masala 1/2teaspoon
Tomato 1 (chopped)
Water 3cups
Rice bran oil 3-4tablespoon
Salt
Coriander leaves (chopped) 1tablespoon
Directions:
For Pakodas, take gram flour(besan) in a bowl, add water to it. Stir it to make a semi liquid form batter.
Add boiled and mashed potatoes to it, add chopped green chilli, chopped onion, a pinch of baking soda,salt, a pinch cumin powder. Mix it well.
Heat oil for frying, make small balls out of the batter and fry on all sides till they turn golden brown.
Repeat with the remaining batter to make pakodas and remove them out on absorbent paper and keep aside.
Heat oil, add chopped onion and a pinch of salt, fry till it turns golden.
Add ginger garlic paste, kashmiri lal mirch powder, red chilli powder, turmeric powder, coriander powder, cumin powder and little water, stir it.
Add chopped tomatoes, cook till it softens and oil separates out.
Now add fried pakoras and diced boiled potatoes, salt and water for curry and mix.
Cover the lid allow it to boil till gravy becomes thick.
Remove the lid and sprinkle garam masala,cook for 1-2 minutes more. Garnish with chopped coriander leaves.
Ready to be served with hot rice,roti,paratha.