Pakodi-chaat
#DiwaliRegionalRecipe #DiwaliRecipe In Indian context "Chaat" is what comes to mind as one think about after sweet when it comes to any celebration. Because after having a platter of festival sweets, we always need something to balance that extra sweetness in our taste-bud with spoonful of spicy chat-pata chaat. Isn't it?
After pani-puri ,I always love to pamper my taste bud with a plate of hot pakodi-chaat. This is so perfect to go with any celebration at home .
In each bite you can get a combination of flavors to tickle your taste bud… Sweet,spicy, savory at the same time…And the best thing is that you can always adjust the level of each flavor according to your taste ..Isn't so cool !!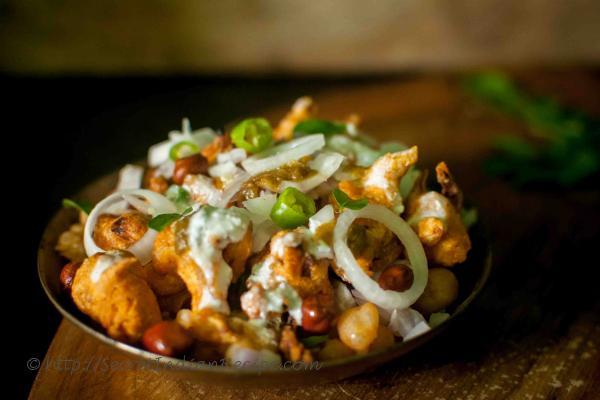 Ingredients:
1 cup White Peas
1/2 tsp Turmeric
1 cup Gram Flour
1 small Onion chopped
1/8 tsp Baking soda
1/2 tbsp Blackpepper
1 tsp roasted Cumin powder
1/2 tsp Green Chili paste
2 tsps Tamarind Paste
1 tbsp Coarinder leave paste
1 tsp Sugar powder
3 tbsps Curd
1 tsp Green Chilis chopped
Cooking Oil for frying
Black salt
Sev for serving (opt)
1 big Onion chopped for serving
2 tbsps roasted/fried Peanut
Curry leaves
Directions:
Soak white-peas for 4 hour. add turmeric and salt and pressure cook up to 3 whistle until those are too soft.
Mash peas with back side of a spatula add black pepper powder, coriander powder, cumin powder and cook with 1/4 cup of water for 2 minute.
In the mean time fry pakodi. Make a thick batter of gram-flour, salt ,curry leaves, chopped onion, baking soda with 4 to 5 tbsp of water. Heat oil , drop the batter in the oil to form small fritters. Reduce heat to medium and deep fry till they turn golden brown.
Make a green chutney adding tamarind paste,coriander paste, green chili paste and salt. Add curd with sugar powder.
Take two plates. Spread spiced mashed peas on it. Add pakodis to it.Top with curd ,green chutney as per your taste. Add chopped onion, green chilis to it. Sprinkle black salt. Add fried peanut on top. Garnish with sev if you wish.I like my plate without it. Serve hot.