Pal Kozhukatti
Pal Kozhukattai is the traditional sweet recipe of Tamilnadu. It can be prepared in many ways. Some prepare this using normal milk whereas some use coconut milk. It is a easy to do simple but very delicious recipe. It is not so sweet and even the diabetic people can also try to eat it and enjoy the taste. Now here I have given this recipe without adding milk or coconut milk. My mom learnt this recipe from my grandma & then handed over to me. It is inevitable in all functions in my house. Otherwise also I like it so much that I often ask my mother to prepare it for me.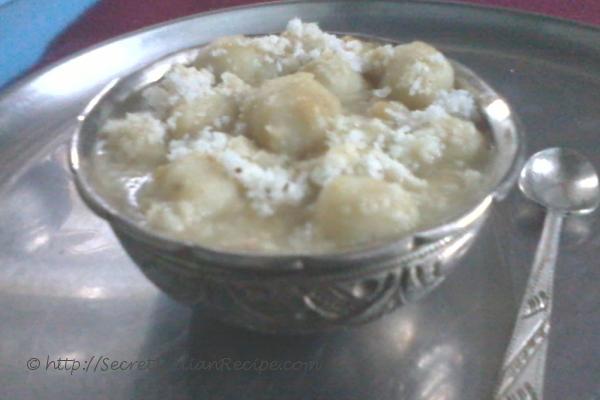 Ingredients:
Rice flour-1 cup
Water-2 cups
Salt-to taste
Ghee-1 tsp
For sauce:
Roasted gram flour-1 tbsp
Jaggery (powered)-1 cup+ water till immersing level (app 3/4cup)
Cardamom powder-1/4 tsp
Coconut grated-3 tbsp
Water-1 cup
Directions:
1.In a pan add jaggery in water till immersing level & heat it up till dissolve.Then strain to remove impurities & keep aside.
2.In a mixing bowl add water, salt & add the rice flour mix well to prevent lumps.
3.The mixture should be smooth & creamy (adjust water level accordingly to this) Then transfer this mix to a non-stick pan with ghee.keep stirring until it forms a smooth dough consistency.At this stage switch it off.
Make a small balls or cylindrical shape (this is traditional shape )& keep aside.
Heat.water + jaggery syrup in a heavy bottom pan. Boil this for a few mintues. Then add small rice balls into the pan & simmer it.
As the balls are added, first it will all sink to the bottom. Cover the pan with a lid & cook until the balls turn soft. Once cooked it will gradually raise. stir it very carefully to avoid breakage.
once the balls are cooked switch off.
In a bowl add roasted gram flour +3 tbsp of water make a paste without any lumps.
Add this mixture into the pan containing rice balls & give a quick stir, finally add cardamom powder & grated coconut. Serve hot/ cold.
Footnotes:
If u want to make with coconut milk in step 5 add water + milk, after boiling put balls. once balls are cooked add coconut milk into it , give a quick stir & then add jaggery syrup finally & give a stir. Allow it to simmer for 3-5 mins..
2.The measurement for water: coconutmilk: milk can be adjustd to our choice, it should be just enough for the balls to immerse.
3.You can replace jaggery with sugar but the authentic way is making it with jaggery.
4.Roasted gram flour is for thickening & taste.